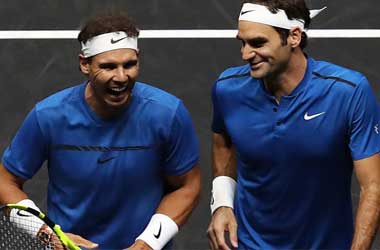 The 2019 French Open has reached the semi-final stage and fans will be delighted with how the men's division has played out. The top four seeds in the division have made it to the semi-finals and fans will be looking forward to getting their money's worth at Roland Garros.
Roger Federer and Rafael Nadal have been fierce rivals over the years but remain friends because they know that they bring out the best in each other. The two greats have played each other 38 times over the years and have immense respect for each other's game. Nadal is seeded 2 and Federer is seeded 3 at Roland Garros but there is no doubt that Rafael Nadal is the overwhelming favourite since they are playing on clay – his favourite surface.
The last 5 times the two have met, Federer has won all 5 encounters but none of those have been on clay. Nadal has dominated Roland Garros throughout his career and has played Federer on clay 15 times and has won on 13 occasions. Clay courts have proven to be a challenge to Federer who has 20 Grand Slams to his name with only one French Open championship.
ATP Tour
Roger Federer has skipped the last three French Open championships but decided to play in 2019 as many believe it could possibly be his last French Open. He will dearly want to change his record against Nadal on clay and do it at the French Open. Federer has played Nadal at Roland Garros 5 times, four of which was in French Open finals and he has lost all of them.
Nadal's dominance over Federer at Roland Garros has been so outstanding that Federer has never succeeded in winning more than one set.
Tough For Federer To Win French Open
The 38 year old Federer is the oldest player amongst the four semi-finalists. He put on a great performance in the quarter-finals when he defeated countryman Stan Wawrinka in four sets. Federer knows that even if he gets through Nadal, it is going to be another tough match for him in the finals.
The second semi-final in the men's division will see the number 1 seed Novak Djokovic take on the number four seed in Dominic Thiem. Djokovic is the favourite in this match and many expect him to finish the tournament as the 2019 French Open Champion!