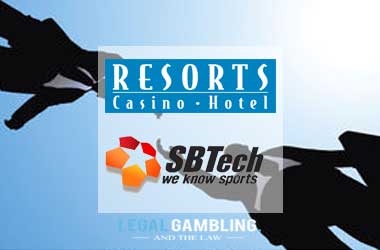 New Jersey legalized sports betting recently and many casino operators are in a hurry to launch sports betting services and capture a piece of the market early on. Resorts Casino recently announced that they had entered into a partnership with SBTech, one of the world's leading sports betting solution providers to launch sports betting services in the Garden State.
This is the second major US deal for SBTech. The first one was with Churchill Downs, which is based out of Kentucky and the second was with Atlantic City's Resorts Casino who will be leveraging SBTech's state-of-the-art offerings that cover multiple sports betting channels. The first stage of the partnership will be mostly focused on creating a land-based solution where sports bettors can visit a shop and put down a sports betting wager with ease.
Resorts Casino decided to partner with SBTech as the company had emphasized its focus on the US market. It also helped that SBTech has a history of implementing their systems quickly, even in markets with strict regulations. SBtech's software has a strong market reputation and has received multiple EGR Awards for the "best In-Play Betting Software" award for three years straight.
SBTech is also good at implementing mobile sports betting solutions and this will most likely be rolled out soon. SBTech's offerings such as Pulse Bet and YourBet will ensure that sports bettors will be able to wager from anywhere, without the need to log in to their desktop PC.
SBTech
Resorts Casino also announced a deal last month for sports wagering with daily fantasy sports operator DraftKings.
Resorts Casino Outsources Risk Management
The partnership will have Resorts Casino leaving SBTech to handle all the risk management and trading when it comes to sports betting. SBTech uses a proprietary trading strategy that will allow Resorts Casino to have a personalized solution that is unique in the market. SBTech has immense experience of operating sportsbooks in over 15 regulated markets and will use that expertise to power Resorts Casino.
In a statement, Richard Carter, CEO of SBTech, said
Our strategic partnership with Resorts represents the next stage of our long-planned penetration of the US market. SBTech's renowned commitment to delivering leading-edge solutions across all channels and intelligent responsible gaming infrastructure will help us develop a sports betting offering that will benefit our partners and promote best practice and the strongest levels of consumer protection