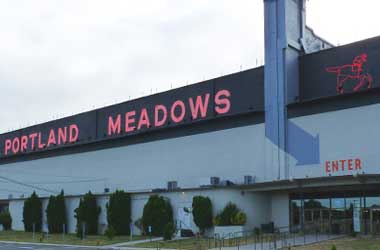 Portland was once a hot spot for poker players even though playing commercial poker is considered illegal in Oregon. However most social clubs in Portland leveraged a loophole in the 1973 gaming law which allowed social gaming. Portland clubs promoted their poker cash games as shootouts and asked their dealers to collect tips which appeared to be within the rules.
Portland Meadows one of the most well known social clubs in Portland and runs the largest video lottery terminal in Oregon. The ten video lottery terminals brought in $350,000 in revenue for the club and generated $1.83 million in gaming revenue for the state. Portland Meadows also offer poker games and used its website and social media accounts to promote $1/2 cash games that had guaranteed prize pools between $1,000 to $10,000.
When the authorities decided in 2016 to crackdown on social clubs who were offering poker games, Portland Meadows became one of the first targets. When the authorities confirmed that the club was offering illegal poker games, Oregon Lottery decided to revoke the clubs video lottery license due to the fact that Portland Meadows ran illegal poker games and announced that its video lottery license would be suspended from October 30 Portland Meadows asked Oregon Lottery to reconsider its decision but the decision was not reversed and Oregon Lottery has once again confirmed that effective October 30, the video lottery license will be suspended. Oregon Lottery sent Portland Meadows a letter highlighting a number of reasons as to why it could not consider the clubs request not to have its license revoked.
One of the main reasons cited was that Portland Meadows continued to offer poker games and defy Oregon state gaming law. Some of the other reasons highlighted included the house serving as a bank; players winning nearly $2,300 in a single hand which violated the $1 limit; staff asking players to tip dealers and players discouraged from dealing their cards. The letter also pointed out that a detective had visited the club undercover and discovered the Portland Meadows had casino style card tables and did not follow deal rotation between players which is required under state gaming law.
Oregon Lottery said it made the decision to terminate the video lottery license because it had determined that there was a threat to integrity, fairness, honesty and security of the lottery at Portland Meadows. The decision to revoke the club's video lottery license will significant reduce the club's revenue.