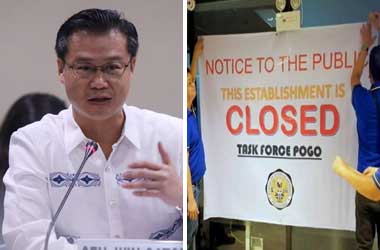 Summary:
The Committee on Ways and Means filed a Senate report recommending a ban on all POGOs
The Committee wants to see the POGO industry dismantled within three months
The recommendation will be up for deliberation by Senators
The campaign to ban the operations of Philippine Offshore Gaming Operators (POGOs) has gained valuable momentum after 10 of the 18 members of the Philippine Senate's Committee on Ways and Means gave their backing to a proposal to dismantle the POGO industry within three months with focus now being thrown toward privatizatio of the casino industry.
Gatchalian-led Committee Supports POGO Ban
Local news outlets this week reported that most of the members of the Committee on Ways and Means, which is currently chaired by Sen. Sherwin Gatchalian, recommended the termination of POGO operations in the country by the end of this year.
Gatchalian, one of the most vocal critics of POGOs, hailed the latest development as an "important step" in preventing the rampant crimes linked to POGO firms. He said a POGO shutdown will help maintain peace in the country which is essential in ensuring economic growth.
The recommendation was part of a report filed with the Senate on September 19, Gatchalian revealed. Senators will then deliberate on the report during a plenary session, and discussions will focus on key aspects of the POGO ban recommendation, including the implementation process – whether the ban should take effect immediately or whether operators must be given three months to cease operations.
The Committee recommendation for a POGO shutdown follows a report released by Gatchalian earlier this year which declared that POGOs have not made any significant contribution to the Philippine economy. Such firms have instead exerted a "growing criminal influence" on a number of law enforcement agencies in the country, the report stated.
New Regulatory Framework for POGOs
POGOs are now required to reapply for their licenses after being declared under probationary status by PAGCOR amid allegations of criminal activities linked to the sector. The regulator will evaluate the beneficial owners of POGO firms so they can be held accountable if they are found to be involved in any crime. Operators found to have engaged in illegal activities will not be granted a license.
POGOs were given until September 17 to reapply for a license which will have a validity of two years. Those unable to do so will be endorsed for cancellation. The new rules are part of an updated regulatory framework for offshore gaming operators which took effect in July. Under the new framework, the minimum capital stock required from operators has been increased from PHP15 million to PHP100 million, with the license application fee now set at PHP100,000.