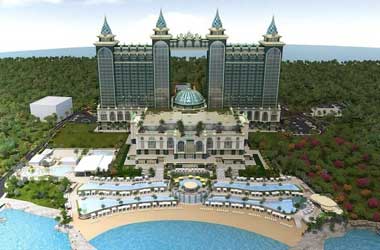 Summary:
PH Resorts is reportedly in the final stages of discussions with potential investors
If they reach a deal, Emerald Bay could open at the soonest possible time
The opening of the resort was originally scheduled for 2022 but has been delayed multiple times
Emerald Bay Resort and Casino, a casino resort currently being developed in Mactan, Cebu in the Philippines, could open really soon with its developer, PH Resorts Group Holdings Inc., currently in the final stages of discussions with potential investors.
PH Resorts Engaging with Two Investors
Construction of the casino resort commenced in July 2017 but Phase 1 launch has been delayed multiple times, with the COVID-19 pandemic and Typhoon Odette which hit Cebu, stalling the project. According to Philippine news outlet the Manila Standard, discussions are ongoing between PH Resorts and two investors, one foreign and one local.
If negotiations end in a done deal, Emerald Bay should open soon, the Manila Standard reported, citing a statement released by PH Resorts on July 26 during which the company also held its annual stockholder meeting.
Emerald Bay is located on a 12.4-hectare beachfront property in Punta Engaño in Mactan Island, Lapu-Lapu City, Cebu. Development of the property involves two phases, with Phase 1 initially scheduled to be completed in March 2022. But the opening date has been postponed on numerous occasions owing to several factors, including the pandemic as well as financial difficulties faced by PH Resorts. The target date for Phase 2 completion is in 2027.
Bloomberry Resorts Corp, which runs the Solaire Resort & Casino, previously engaged in talks with PH Resorts to invest in Emerald Bay, but the negotiations collapsed. In March this year, Bloomberry terminated a term sheet it signed with PH Resorts back in May 2022.
PH Resorts stated that it's also considering releasing some assets that are not generating any cash flows. It is currently in advanced discussions with relevant parties on the matter, according to the July 26 statement.
PAGCOR Reports 37% Increase in Net Income for 1H of 2023
The gaming sector in the Philippines continues to recover, with the country's regulator, the Philippine Amusement & Gaming Corp (PAGCOR) reporting an increase in net income during the first half of 2023. The agency generated approximately PHP2.97 billion (US$54.4 million) for the first six months of the year, up 37.3% year on year.
From April to June, PAGCOR's net income reached PHP1.63 billion, up from PHP1.34 billion in the previous quarter. Overall, the agency recorded just over PHP36.21 billion in total revenue for 1H of 2023, which represents a 35.6% increase from the same period in 2022.