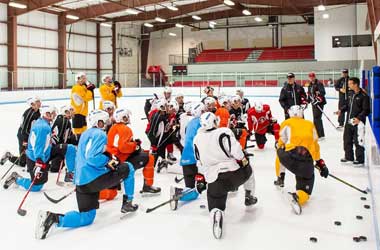 The National Hockey League (NHL) opened their training camps on Monday. The camps comprise the third phase of the NHL's Return to Play Plan. The current training camps will be held for just 13 days before the 24 teams are scheduled to head out for the NHL's hub cities, Toronto (for Western conference squads) and Edmonton (Eastern conference).
Geoff Ward, the coach of the Calgary Flames, noted that preparing for the games feel more like the playoffs than the regular season. Ward said he advised his players to forget the regular season format and just focus on each game like it was the playoffs.
The Qualifiers will begin on August 1, which will mark the NHL's entry into phase 4. The top 4 teams for each conference will compete against each other in a best of 3 round-robins to determine the top 4 seeds for the Stanley Cup Playoffs. The other eight teams will play best of 5 series to qualify for the playoffs.
ESPN The Jump
Many teams are scrambling to train their players in time for the playoffs race. Some teams have gotten a head-start by holding voluntary small workouts since the league's permission was granted on June 8. The big concern for NHL players will be to get back to match fitness as they increase their chance of injury, if they show up for a game underprepared and under trained.
According to Jonathan Toews, the captain of the Chicago Blackhawks, returning after a long hiatus feels out of the ordinary. However, Toews expressed optimism that they will all get used to the current situation soon.
NHL Players' Energy High
The training camps are all subject to stringent health protocols, such as daily COVID-19 tests, temperature checks, and compulsory face masks. But the hockey was the same quality as before the pandemic.
Ryan Ellis, defenseman for the Nashville Predators, noted that many players expected ring rust from each other, but were surprised how easy the transition was. Ellis said many players were performing really well and looked like they were back to their best.
The Arizona Coyotes' coach Rick Tocchet also said that the energy displayed by the players were well above their expectations. However, despite the excitement, many coaches and staff believe it will still take some time for the players to acclimate themselves and get back to 100 percent.