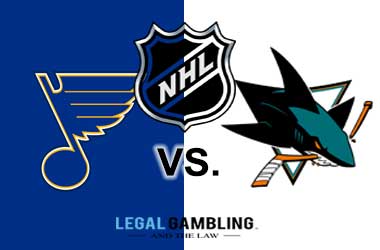 The San Jose Sharks and the St. Louis Blues are getting ready to take the ice for game six tonight. The Sharks are looking to play in their third straight game seven if they want the opportunity to get to the Stanley Cup Finals.
The Sharks had an opportunity to get out to a 3-2 series lead, but they fell flat after 20 minutes. The Blues seized their opportunity and won game five to take a commanding lead in the series. St. Louis dominated the final 40 minutes en route to a 5-0 win.
The Blues are in full control of the series and with some big injuries to the Sharks, they look like they might have the series wrapped up with the lead. The Blues are -160 in this game.
Sharks Look to Answer Back
More concerning than the 5-0 loss in game five was the fact that four players got hurt for the Sharks. All four would leave the game and not return at various times. Erik Karlsson only played for a few minutes in the second period and then left to never return.
He wasn't injured during the game, but people wonder about past injury flare ups. Tomas Hertl, Joe Pavelski, and Joonas Donskoi all were injured in the game and did not return to see action.
The rest of this series will depend if they have their men back healthy. Especially in a playoff series you don't want to be playing guys who would not regularly see time on the ice. The Sharks might be backed up into a corner in this series.
Blues Try to Advance
The Blues are riding high after they easily won game five. Some key injuries to the Sharks may help them out in the remainder of the series and whoever takes the series will have the Boston Bruins waiting for them. This upcoming game will be key for St. Louis to win as they would love to have some time off before the Stanley Cup starts on Memorial Day.
Strangely the Blues have been really bad at home during the playoffs but really good everywhere else. They hold a 7-2 record in away playoff games but are only 4-5 on their home ice. The Blues will need to flip that home record if they are going to win a championship.
Stanley Cup Finals on the Line
The Stanley Cup finals await the winner of the next two games, if two games are needed. The Blues are in a good spot right now and the Sharks are really going to have to hope that their players get healthy fast. The Blues are near full strength and the Sharks have taken some huge depth hits over the past few games. Because of that reason, I think the Blues win game six pretty easily to advance to the Stanley Cup.
Take the Blues to win and advance to face the Bruins. Bet St. Louis -160.