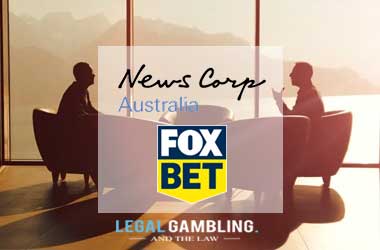 As you might know, News Corp Australia, led by Rupert Murdoch, is in negotiations with a consortium backed by gambling guru Matthew Tripp to launch a new wagering outfit. The deal could reshape the entire local wagering industry, including the ongoing battle for Tabcorp's betting division.
On the other hand, the latest news report that News Corp is also in talks with Fox Corp to acquire licensing rights for the FOX Bet brand to use in the new business. Interestingly, the Murdoch family is also behind Fox Corp.
The initial idea was for Fox Corp to establish FOX Bet in Australia by partnering with another wagering company. However, the brand might be established by News Corp. That marks the first significant step into the wagering industry for the company.
Although News Corp was interested in partnering with one of Australia's established bookmakers to launch FOX Bet, now the company prefers to strike a deal with equity partners tied to Mr Tripp. Tripp is the former boss of Sportsbet and the founder of BetEasy.
This deal could also reshape the struggle for Australia's biggest bookmaker — Tabcorp's TAB. This comes after Mr Tripp has fronted a $4 billion cash-and-scrip bid by ASX-listed BetMakers for the division. BetMakers is not directly involved with the consortium, but it could provide the back-end systems needed for News Corp to establish its wagering operations in Australia.
Conversely, if BetMakers's bid for TAB turns out to be successful, Mr Tripp will profit by becoming the person in charge of FOX Bet, running the two brands alongside each other.
Mr Tripp invested $25 million in BetMakers in February before joining it as an advisor. He is interested in bringing wagering on sports closer to younger punters, as they're not as interested in betting on races.
BetMakers has offered to pay $1 billion in cash, along with $3 billion in shares, to Tabcorp. With the shares worth much more than last year, the offer frightened the investors themselves after their share price fell 16% last week.
Regardless of whether these negotiations end up having anything to do with the struggling Tabcorp, FOX Bet's launch will shake up the competitive online wagering market.
This isn't News Corp's first encounter with the local wagering industry. The company already quotes live sports odds on some of Foxtel's streaming services. It also owns the racing sites Racenet and Punters.com.au. By partnering with Mr Tripp, News Corp would consolidate its presence in the wagering and gaming industry.
Although we don't have official affirmation, News Corp will supposedly purchase the FOX Bet name through a non-cash agreement. The deal might be formed via advertising credits from the company's The Daily Telegraph, The Australian, The Herald Sun and pay-TV operator Foxtel.