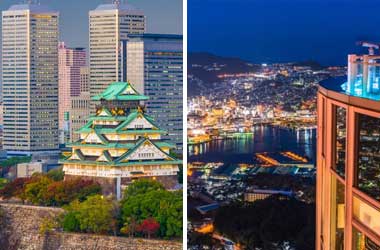 Summary
A civic group in Osaka wants a referendum on the IR issue
In Nagasaki, another group is requesting an audit of the IR project's fundraising plan
Anti-gambling push will likely be blocked by the prefectures
Proposals to build an integrated resort (IR) in Osaka and Nagasaki continue to face challenges, the latest of which are from two separate civil groups opposed to the development of a casino resort in both cities.
Back in April, the prefectures in Osaka and Nagasaki both submitted their respective IR District Development Plans to the national government for approval.
Now, despite Osaka and Nagasaki's IR's plans successfully making their way to the national authorities, opposition to the development continues, with some groups attempting to have them dropped.
Groups Push for Referendum, Fundraising Audit
Just this week, a civic group in Osaka claimed it had successfully gathered enough signatures to push for a referendum on the issue. The group submitted the 208,552 signatures to the Osaka prefecture's Electoral Administration Commission. That number surpasses the number of signatures required to hold a local referendum (146,500 signatures equivalent to 2% of the local electorate).
Meanwhile in Nagasaki, an anti-casino group recently announced that it had submitted a resident audit request to the prefecture under Japan's Local Autonomy Act.
The group wants the audit committee to review the fundraising plan concerning the city's IR project which is being facilitated by Casinos Austria International Japan, Nagasaki's private-sector partner on the IR proposal.
The group has also requested the committee to reveal the capital contributors for the project after the local government previously declared that the prefecture received more than 10 commitment letters in support of the IR development. Officials also stated the commitments amounted to over JPY500 billion, which was well above the JPY438.3 billion needed for the project.
Latest Move by Anti-Casino Groups Unlikely to Succeed
In Osaka, there's a slim chance a referendum will happen as it will likely be rejected in the prefectural assembly which is dominated by the Osaka Restoration Association, a regional political party that supports the IR development. Osaka prefecture governor Hirofumi Yoshimura already indicated that a referendum will not go through.
The signatures will also need to be verified and the entire process could take a month. This is the second attempt by private groups to initiate a referendum on the IR issue. The first one had been unsuccessful after it was blocked by the Osaka city council.
The latest move by an anti-casino group in Nagasaki is also bound to fail. For one thing, a local audit committee can only be formed with the approval of the prefectural assembly which has already thrown its support to the IR project.