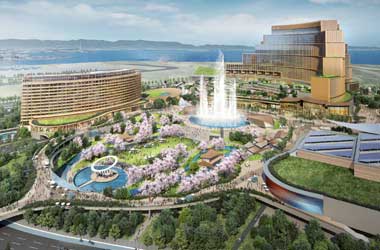 Summary
MGM Resorts should get the nod for an IR license in Osaka
MGM expects to commence work on the project from late 2023
Osaka IR is expected to cost over $8.3 billion
MGM Resorts International might commence foundational work for the casino resort in Osaka, in late 2023 if Japan's national government grants them an integrated resort (IR) license.
According to MGM CEO and president, Bill Hornbuckle, the final decision on the proposal might be announced by October 2022.
MGM has partnered with Japanese financial group Orix Corp to develop the integrated resort (IR) at Yumeshima, an artificial island in the Osaka bay.
Osaka IR to Open by Early 2029, Predicts CEO Hornbuckle
During MGM's earnings call for the three months to March 31, Hornbuckle had announced that MGM, Orix, and Osaka had submitted the IR proposal to the central government in March. The deadline to submit plans was April 28. Although Japan's liberalization scheme allows three countrywide resorts, only Nagasaki and Osaka have submitted their proposals, while Wakayama withdrew from the race.
Referring to the timetable for the IR, Hornbuckle said that the $8.3 billion complex will open in late 2028 or 2029. The CEO further said that the pylons will be constructed by late 2023 or in early 2024.
The executive referred to MGM as a long-standing survivor vying for a casino license in Japan. He said that the experience of working in the Japanese market on a large scale will prove beneficial for the group as it is a compelling prospect. MGM already possesses a thriving casino business in Asia. It is a major owner of MGM China Holdings Ltd., which operates the resort in Macau.
Recently, MGM China's first-quarter adjusted earnings before interest, taxation, depreciation, and amortization (EBITDA) registered a year-on-year decrease of 45.8 percent. In March 2022, Macau's casino gross gaming revenue (GGR) had hit a low since September 2020. The GGR in April was lower than the previous figures. Commenting on the Macau casino market, Hornbuckle acknowledged that the group has continued to encounter setbacks because of short-term public health directives that have affected the city's tourism scene negatively but there are signs things are starting to recover.
MGM Hopeful for Renewed License in Macau
Despite the dismal GGR, Hornbuckle added that MGM China's market share was higher than its record, at 13 percent. The CEO was confident that the group was capable of attracting premium-mass business in Macau, as volumes recover.
Meanwhile, Macau's six casino concessionaires will see their respective licenses expire in 2022. Regarding the new public tender, Hornbuckle confirmed that the group would cooperate with the authorities for a renewed license and was assured of the government's fair approach to the process.