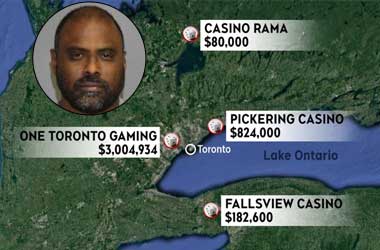 Summary:
Patron managed to buy in over $4 million at different casinos, mostly in Ontario
The suspect had been laundering money at Canadian casinos for several years
There are calls for Canadian casinos to do more than report suspicious transactions
A man allegedly managed to launder millions of dollars through transactions at multiple casinos in Canada.
The money laundering scheme had gone on for several years in Ontario and was only disrupted last fall when he attempted money laundering nearly $100,000 at a casino in Niagara Falls. The transaction was flagged as suspicious and the cash was seized.
Suspect Escaped Criminal Charges
The suspect, identified as Branavan Kanapathipillai is on the run and may no longer be in the country. He was a no-show at a Newmarket courthouse where he could have laid claim to the cash confiscated from him, which indicates that he may be avoiding authorities.
Kanapathipillai will now find it difficult to continue his money laundering operation in Canada after the Niagara Fallsview Casino incident but the man already racked up over $4 million via deposits and withdrawals at different casinos in the country, especially in Ontario over several years, according to court documents.
The venues were able to file reports on the suspicious transactions but had failed to keep the suspect out of their vicinities. The suspect has not been charged with any crime relating to his illegal activities.
Massive Increase in Suspicious Transactions at Canadian Casinos
Kanapathipillai's case exposes some failings on the part of the casinos in terms of preventing money laundering at their establishments. Retired RCMP money laundering specialist Garry Clement said money launderers get away with their crime because casinos are not tough enough in enforcing the rules.
Suspicious transactions at Canadian casinos went down to $134 million in 2020 (from $334 million in 2019) as gaming venues were closed due to the pandemic. The figure continued to fall in 2021 to $116 million. However, when casino operations returned to normalcy in 2022, suspicious transactions amounted to $372 million, surpassing 2019 levels. Authorities said the opening of three new casinos in the same year contributed to the massive jump.
Reporting suspicious transactions is part of anti-money laundering policies implemented at casinos, and data from those reports can be used by law enforcement agencies in launching investigations into suspected money launderers. The significant rise in suspicious transactions indicates that casinos have been reporting suspicious buy-ins, according to Tony Bitonti of Ontario Lottery and Gaming (OLG).
But Clement said more needs to be done. Money laundering at casinos is a serious problem in the country, especially in Ontario. It must be closely monitored and deeply investigated, he said.