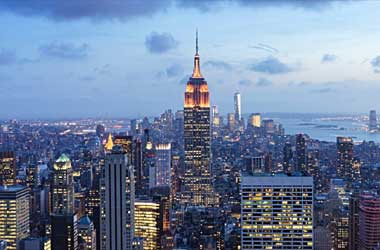 New York currently permits legal sports betting to take place but only at retail locations. It does not allow online and mobile sports betting unlike neighboring New Jersey. This has resulted in a potential loss of revenue since the Garden state is generating millions of dollars thanks to mobile betting. New York State Sen. Joseph Addabbo has been pushing for online sports betting for some time now but has acknowledged that it may only happen in 2021!
One of the main reasons for this is because New York legislators are currently facing a major crisis in COVID-19. This has pushed a lot of other legislation to the side as the state tries to survive. Plus, the deadline has passed since the chance to add online and mobile sports betting to the budget ended on April 1.
There is still a strong chance for online sports betting to be added since the state is currently running a $7 billion deficit. The state has to come up with funds for 2021 and online gambling might a good option to generate those funds. According to the data, New York only generated $9.7 million in revenue from sports betting since July 2019. Compared to New Jersey, which earned $243.3 million, that is a massive difference in revenue. Senator Addabbo thinks that New York can bring in a lot more sports betting revenue and is pushing hard for approval next year.
CBS New York
The senator said that he and supporters spoke with the state's budget director, Rob Mujica to allow for online sports betting to be approved before the April 1 deadline but Governor Andrew Cuomo decided to say no to mobile sports betting for the state at this time despite it opening new revenue sources.
New Revenue Sources
Addabbo is confident though that the state of New York might start looking in online sports betting's direction once the bill for the COVID -19 crises is totaled up. The State will most likely need new revenue streams to make up for the billions of dollars spent.
If online sports betting does get approval, it won't be instant though. It will take four to six months before the first wager can be accepted.
New York has been the hardest hit by the COVID-19 crisis and the data shows that most of the U.S. COVID-19 deaths are in the state. While these are unfortunate circumstances for New York, it might turn out to be a positive situation when it comes to the push to legalize sports betting in the state!