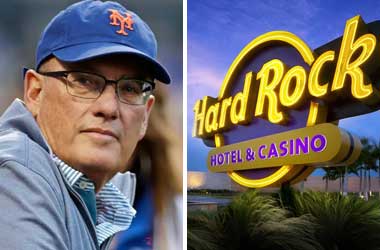 Summary:
Steve Cohen will develop the project in partnership with Hard Rock and sHoP Architects
The development will include a public park space, athletic fields, a food hall, and a Hard Rock hotel
A casino in Queens could bring in an annual revenue of US$1.9 billion
Steve Cohen has made his casino bid in New York official by announcing further details of his plan along with his partners in the project.
The New York Mets owner is looking to develop a casino in Queens next to the Citi Field baseball stadium.
He is partnering with Hard Rock and SHoP Architects for the US$8 billion development.
Cohen Unveils Details of Proposed "Metropolitan Park"
Cohen plans to build the gaming complex, named "Metropolitan Park", on a 50-acre parking lot near the Citi Field baseball stadium. It would include a 20-acre public park space, athletic fields and playgrounds, a renovated mass-transit station, conference areas, bars and restaurants, and a "Queens food hall".
The development would also feature a Hard Rock hotel with live music and gaming facilities. The project would generate 15,000 permanent and construction jobs, which was welcomed by the Queens Chamber of Commerce.
Up to three casino licenses are up for grabs in New York, two of which are expected to go to two existing properties in the state that already offer gaming – the Genting-owned Resorts World New York City and the Empire City Casino which is operated by MGM Resorts.
Multiple groups have already expressed interest in getting one of the licenses, with the number of bids now at 11.
Cohen needs to overcome major obstacles for his plan to come to fruition. First, the project's site is technically owned by the state, and that would require lawmakers to pass a Bill for the annexation of the land.
Assuming the Bill is approved, Cohen would still need to obtain majority support from the members of a sitting board comprised of local elected officials from the district where the hedge fund billionaire plans to build the project.
The license application process will be overseen by the New York Gaming Facility Location Board. The Board will review the applications and make recommendations to the Gaming Commission which will then decide who gets the license.
Queens Casino Could Generate US$1.9B in Annual Revenue
Cohen has actively engaged with members of the Queens community to get their inputs and gain support for his proposal. He said the goal is to provide a shared space that people will not only want to come to but can be truly proud of.
According to Spectrum Gaming, a casino in Queens, New York's largest borough, could generate US$1.9 billion in revenue each year.