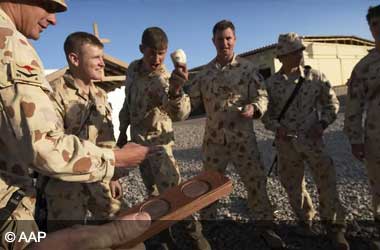 Summary
One in five Aussie veterans have tried to kill themselves due to gambling addiction
The research comes as the NSW government finalizes proposals for gambling reforms
NSW RSL clubs are opposing the reforms
New research has found the rate of attempted suicide linked to gambling addiction is higher among Australian veterans than the general population who are considered amongst the worst gamblers in the world.
The findings were unveiled after New South Wales (NSW) RSL clubs had expressed strong opposition to gambling reform plans by the NSW government
1 in 5 Veterans Tried to Kill Themselves due to Problem Gambling
According to the study which will be published in the coming weeks, 40% of veterans have had suicidal thoughts while one in five have tried to end their lives.
Dr. Olivia Metcalf, senior research fellow at the University of Melbourne and lead author of the research, said more needs to be done to gain a better understanding of the impact of gambling addiction on trauma-affected populations, especially the veterans who are "vulnerable to suicide".
Metcalf acknowledged they do not have sufficient data to provide an accurate comparison of addiction-linked attempted suicide rates between the veterans and the civilians, but she said it seems the rate among veterans is higher compared to the general public.
The study also found that 13% of veterans exhibit signs of problem gambling within five years of retirement, putting them at a higher risk of developing gambling addiction than the general population.
NSW RSL Clubs Accused of Exploiting Veterans
Pokies are prevalent in RSL clubs across the state as the gaming machines serve as the clubs' main source of revenue. NSW RSL clubs use a portion of that revenue to provide support for the veteran community and their families through donations and other services.
Margot Smith, chief executive of NSW RSL Services Clubs Associations, has urged members to speak up against government proposals to introduce cashless gaming in NSW clubs, saying the measure would do more harm than good.
NSW Premier Dominic Perrottet is pushing on with the plan which is aimed at combating money laundering and problem gambling. In fighting the proposed changes, Smith said they need the support of the "silent majority" who are benefiting from RSL clubs' operations.
Prof Malcolm Battersby, head of psychiatry at Flinders University who was also involved in the new study, lashed out at RSL for "exploiting" the veterans, allowing them to lose massive sums resulting in gambling harm. Prof Battersby accused the organization of "making profits out of misery", which is entirely a contradiction to its primary mission of providing care and service to veterans.
Smith has maintained that NSW RSL clubs have been providing "sustainable and responsible gambling" for their patrons. However, in 2020, the Dee Why RSL Club was slapped with a $200,000 penalty by the NSW Independent Liquor and Gaming Authority for "irresponsible" practices, leading to the suicide of a customer.