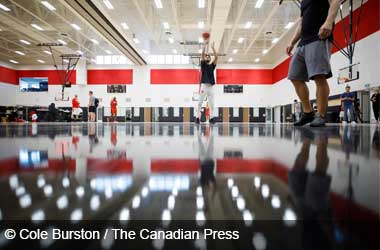 NBA sources have reported that the league will begin re-opening facilities this week for teams located in municipalities and states that have started to loosen their COVID-19 related restrictions.
Players will be allowed to go back to the team facilities located in states like Georgia should they choose to engage in voluntary workouts. Some NBA teams will therefore have the opportunity to train their players in a professional facility, rather than in commercial or personal gyms.
Teams will still have to contend with the ban on group workouts, or any organized activities that involves the entire team. Teams located in places that are expected to continue their COVID-19 restrictions will have to wait as the NBA arranges alternative solutions.
The decision to re-open training facilities does not have any bearing on the NBA's timetable for the possible resumption of the 2019-2020 NBA season. Commissioner Adam Silver and NBA team owners are still unable to commit to a definite answer on whether the league can resume operations this year.
ABC News
Team executives have campaigned for their players to be allowed access to their training facilities, which they contend are the safest places to train while the COVID-19 pandemic rages on. Some team GMs have reported to Commissioner Silver that players have inquired about traveling to Atlanta to train in one of the few fitness centers open in the U.S. prompting team executives to call for team facilities to re-open in order to accommodate their players' wishes.
Many players live in homes away from the places their teams are in. Some players have begun to work out in the NBA facilities located closest to their current location.
Re-opening Team Facilities Controversial
Some GMs question the NBA's subsequent decision to re-open selected team facilities, because it directly contradicts public health experts' consensus against the re-opening of businesses.
Mark Cuban, the owner of the Dallas Mavericks, has stated that the NBA has yet to set guidelines on how to manage the re-opening of team facilities. Cuban said it is too early to say whether it is safe to do so.
Cuban also believes that NBA games, should they resume, will have to be played without fans to prevent any danger. He said many players are raring to get back on the court but uncertainty still reigns on whether that might occur, or what such a return might entail in terms of precautions and guidelines including the need for rapid testing.