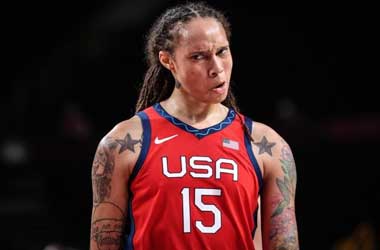 Summary
Russia still not willing to release WNBA Star Brittney Griner from prison
NBA Commissioner gets involved with WNBA to push for Griner's release
Russia has banned U.S officials from speaking to Griner
WNBA star and two time Olympic champ Brittney Griner is currently stuck in a Russian prison after she was arrested on drug charges. Griner has played basketball in Russia for many years during the off-season of the WNBA. She was picked up after alleged vape cartridges with cannabis oil were found in her luggage.
NBA Commissioner Gets Involved
The WNBA has been doing its best to work with the U.S government to put pressure on Russia to release Griner. Now the NBA is also getting involved as NBA Chairman Adam Silver said they had joined forces with the WNBA to do everything they can to bring Griner back home.
Commissioner Silver said that they were currently working together with the State Department, White House, hostage negotiators, the private sector and multiple officials in the government to open a regular line of communication with Griner, ensure her health and safety and ultimately bring her back to America.
Russia Not Willing To Release Griner
Griner is currently serving time in a Russian prison and is in pre-trial detention. The U.S State Department has stated that she has been wrongly detailed and has been trying to secure her release but have not been successful so far. The U.S Embassy has visited Griner twice this month and have stated that she is doing alright given her current circumstances.
When U.S Embassy officials tried to visit her for the third time this month, they were denied permission by Russian officials. John Sullivan, U.S Ambassador to Russia was very unhappy after they were denied permission and took to Twitter to say that it was an unacceptable decision by Russia and called on them to provide consular access based on the bilateral and international obligations that Russia is supposed to follow.
#AMBSullivan:  For the third time in a month, Russian authorities have denied an Embassy visit to detained U.S. citizen Brittney Griner. This is unacceptable. We call on @mfa_russia to provide timely consular access, in line with Russia's intl & bilateral obligations.

— Посольство США в РФ/ U.S. Embassy Russia (@USEmbRu) May 17, 2022
Antony Blinken, Secretary of State said that he got in touch with Griner's wife to give her an update on what they were doing and how Griner was holding up. Blinken is also looking to secure the release of all Americans wrongfully detailed in Russia.
Corporate executive Paul Whelan is one of those individuals wrongly detained as he was arrested in Russia on espionage charges and was sentenced to 16 years in prison.