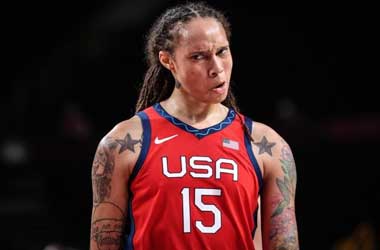 Summary
After being classified as wrongfully detained, Griner's release can now be fast-tracked
Her case has now been handed over to the SPEHA office
The change in designation has been considered a positive development
After nearly three months of staying behind bars on drug smuggling charges, American professional basketball player Brittney Griner has now been classified by the US as "wrongfully detained" in Russia.
The change in designation was confirmed on May 3 by a US State Department official.
Griner's Case Now Under SPEHA
The US Special Presidential Envoy for Hostage Affairs(SPEHA) Roger Carstens is now taking charge of Griner's case and is set to embark on diplomatic negotiations with the Russian government for Griner's release.
Griner, who plays for Phoenix Mercury in the Women's National Basketball Association (WNBA), has been accused of drug smuggling and could face a 10-year jail sentence if proven guilty.
The two-time Olympic gold medalist, who often travels to Russia during the WNBA offseason to play for UMMC Ekaterinburg, was arrested by Russian authorities back in February after allegedly carrying an illegal substance after flying from New York to Moscow.
But US officials said Russia might be using Griner as a hostage amid the Western sanctions currently imposed against the country for its ongoing invasion of Ukraine.
With Griner now classified as wrongfully detained, the US government can explore alternative avenues for her release with the SPEHA office spearheading the efforts. If negotiations prove successful, Griner can be released without having to wait for the outcome of her drug smuggling case.
According to Ned Price, spokesperson for the State Department, Ambassador Carstens will leave no stone unturned in trying to secure Griner's freedom. The main goal is to bring the basketball star Griner home and let her reunite with her family, he said.
Positive Development
The SPEHA office headed by Carstens had a hand in negotiating the recent release of American citizen Trevor Reed who had been detained in Russia since 2019 for allegedly assaulting two police officers. The Marine veteran was freed in a prisoner swap on April 27 following negotiations with the Russian government. Officials are hoping to achieve the same thing for Griner.
Griner's friends and family, as well as the WNBA, have welcomed the latest developments as they wait for the basketball star's return.
Richardson Center, a private organization that helps to negotiate the release of wrongfully detained persons and hostages around the world, will also assist the US government in its efforts to secure Griner's freedom. The non-profit organization is headed by Bill Richardson, a former US ambassador to the United Nations.