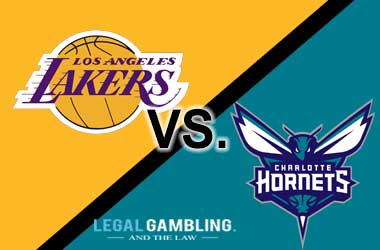 The Los Angeles Lakers have had a brutal 2018-19 regular season, and they are ready for it to be over as soon as possible.
The Charlotte Hornets will head to LA on Friday night with the hope of moving even closer to a playoff spot in the Eastern Conference. Los Angeles will look to play the role of spoiler, while Charlotte hopes to take advantage of a depleted Lakers team.
Charlotte comes into this game with plenty of momentum, having won four straight games. The Hornets have improved their record to 35-39 on the season, and are just 1.5 games out of the final playoff spot in the Eastern Conference. Los Angeles has won just two games in their last eight tries, and have been out of the playoff race for a long time.
The Lakers are just 33-42 on the season. Charlotte is a -2.0 point favourite over Los Angeles in this game.
Lakers Running Out of Players
The Los Angeles Lakers have dealt with a ton of injuries this season, and they are running out of healthy players. Los Angeles will be without Lonzo Ball, Brandon Ingram and Josh Hart who have all been shut down for the remainder of the season. The Lakers struggle to score to begin with, averaging just over 111 points per game, and this won't help them out. Los Angeles has also struggled on defense, allowing 113.8 points per night.
This season has always been about LeBron James in LA, and things have not gone well for the former MVP either. LeBron still leads the team with 27.4 points, 8.6 rebounds, 8.2 assists but this hasn't been one of his more memorable seasons. "King James" missed 18 games right after Christmas, and has been sitting out games of late to get some rest. Even if LeBron plays in this game, he won't have much help.
Kemba Walker Still Has Some Magic
Hornets point guard Kemba Walker was known for his heroics while at UConn, and he has been doing the same for Charlotte this season. Walker has been carrying the Hornets on the offensive end of the floor, and leads them with 25.2 points and 5.9 assists per game. The All-Star poured in 38 points and was clutch down the stretch in the Hornets win over the Spurs.
The Hornets are in the bottom third of the league in scoring with just 110.9 points per game this season, but they have had some breakout games of late. Shooting guard Jeremy Lamb has chipped in with 15.1 points per game, and the team is shooting better than 35 percent from the three-point line. The Hornets know that they will eventually have to score points to reach the playoffs.
Hornets Keep Playoff Hopes Alive
The Charlotte Hornets need to almost win out to keep their playoff hopes alive, and they are catching a break by taking on a depleted Lakers squad. LeBron James could certainly go out and take this game over, but there really isn't any point in him doing that. The Lakers are just mailing it in down the stretch, and they won't be competitive in this game. Bet the Charlotte Hornets -2.0 over the Los Angeles Lakers in this game.