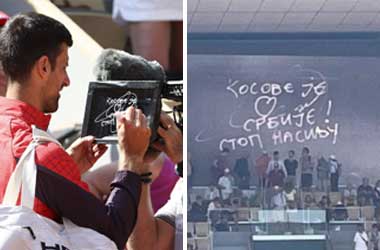 Summary:
Djokovic stirred up controversy at the 2023 French Open
He wrote a cryptic message on a camera screen regarding Kosovo and Serbia
French Open officials have sent a strong message to Djokovic and asked him to stay neutral
Novak Djokovic who is the third seed at the 2023 French Open has advanced to the second round at Roland Garros after an impressive performance that sent Marton Fucsovics home with a 7-6 (2), 6-0, 6-3 win and is looking to capitalise on increasing his Grand Slam haul as the 'GOAT of Clay' Rafael Nadal is unable to defend his title.
Djokovic created a lot of controversy after his first round win, when he wrote a message on a camera that angered the international community.
Djokovic Shares Views On Kosovo/Serbia
Djokovic who is from Serbia suddenly decided to use the post-match camera that was filming him to send a message to everyone watching. He wrote on the camera screen the following words "Kosovo is ♥ Serbia. Stop violence".
While Kosovo declared its independence from Serbia in 2008, Serbia has never recognized Kosovo's independence and regards Kosovo to still be a part of Serbia. This standoff between Serbia and Kosovo has caused tensions in the regions for a number of years and they have recently escalated after the Kosovo election in April. There continues to be a lot of violence and unrest in Kosovo and Djokovic wanted to bring attention to the same.
Djokovic also took to social media to post the same message that he wrote on the camera screen. Many fans called on French Open tournament officials to take action against Djokovic for divisive comments and tournament officials have responded.
Djokovic Gets Strong Warning For Militant Behaviour
The International Tennis Federation has said that they will not take any disciplinary action against Djokovic as it will be up to French Open officials to decide what action is required.
Amelie Mauresmo, director at the 2023 French Open met with Djokovic and his team and advised him to stay neutral at all times but did not impose any other sanctions.
Amelie Oudea-Castera, the Sports Minister in France also addressed the issue and said that a sportsperson is free to use their platform to bring individuals together based on universal values and defend human rights. However, she said Djokovic did not do that as his comments were very political, militant and not appropriate. She also gave Djokovic a warning and said that a similar incident should not occur again.