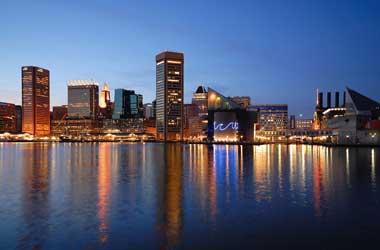 Residents of Maryland may soon be able to make a legal wager on sports events. This because the State Senate has unanimously voted on passing a legal sports betting bill recently. Senate Bill 4 was voted in by the state's Budget and Taxation Committee.
The result of this bill is to have a state referendum be part of the upcoming election in November. If voters support it, the state will then be able to offer nine sports betting licenses.
Six of those nine licenses will be shared between the various sports betting interests in the state. This means half will go to the three main state sports locations.
WUSA9
This includes Pimlico Race Course and Laurel Park and the State Fairgrounds in Timonium, where the main racetracks are in Maryland. The new Washington Redskins stadium will be getting one as well. The other three licenses will go to the state's casinos. All of them will be paying $2.5 million for the privilege, with casinos with less than 1,000 slot machines only paying $1.5 million.
The bill will also grandfather in the state's four off-track betting parlors. They already receive wagers on races but they can receive bets on professional and college athletics if the bill passes. Additionally, the bill sets out the recipients of the state's tax revenue from gambling. Most of it will go to fund K-12 public education.
Sen. Craig J. Zucker (D-Montgomery) who is the main sponsor of the bill said that Marylanders were eager to place legal sports bet and this bill gives them the opportunity to do so. The funds generated from taxing the sports betting industry will be used to develop education in the state.
Further Details
The bill would also allow license holders the right to a "skin" which means that they can support an online betting app. The licenses are set for five year periods. They can be extended for another five years after paying a renewal fee. As for the division of the revenue, licensees will be getting 80 percent of the net revenue. The state government will take 19 percent, while the remaining one percent will go to a minority contracting fund.
Experts are estimating that Maryland could potentially generate $21 million a year from sports betting so that will be a sizable chunk of funds for the state. The bill still has to go through the state legislature though and multiple amendments may change its shape. Voters will need to make a decision in November if they want a legalized sports betting market in the state!