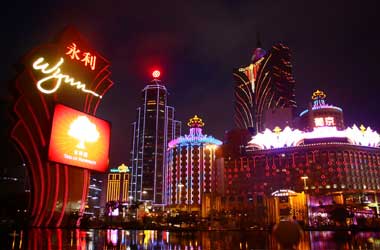 China's advanced surveillance techniques appears to have slowly crept into the gambling industries as reports show that Macau's casinos are now employing facial recognition technology, hidden cameras, and RFID-enabled chips among others to discretely spy on their clientele's betting habits.
Macau is the biggest gambling hub in the world and has proven to be a fertile ground for the pilot testing of innovative gaming technology, with operators now beginning to install digitally-enabled poker chips, hidden cameras, hi-tech baccarat tables and facial recognition technology to zero in on its gamblers' behaviour and potentially profit from the data collected according to industry insiders.
This state-of-the-art tech enables casinos to predict its patron's inclination for risk, by mining data about their wagering habits, to single out impulsive gamblers who are likely to shell out more and lose to the house. With these new tools, casinos stand to gain up to tenfold in gambling spending by targeting risk-taking clientele and egging them on to keep playing.
According to insiders who preferred not to be named, MGM Resorts International and Las Vegas Sands Corp casinos in Macau have already begun deploying this surveillance-savvy technology cover to hundreds of their tables, with plans to expand their reach to more than 1,000 tables already in the works. Melco Resorts & Entertainment Ltd., Wynn Macau Ltd., and Galaxy Entertainment Group Ltd. are also reportedly in talks with vendors to install this new technology.
The adoption of high-tech surveillance comes as the gambling industry struggles to grapple with a world-wide slowdown due to economic decline. Macau has become a popular weekend destination for the Chinese middle class as it is the only region in the People's Republic of China where casinos are not outlawed, with some 3 million flocking to the region every month. The behaviour-tracking technology allows large casinos to effortlessly discern casual gamblers from potentially serious high rollers who have a habit of spending huge sums of money at the casinos.
Clients Will Not Notice Surveillance
Sands China recently got the signal from gambling regulators to employ these new surveillance tools from international vendors. One of the top providers of this surveillance tech is Germany's Dallmeier Electronic who have ensured that the cameras used by the casinos are virtually undetectable by embedding them into columns.
Walker Digital Table Systems is another company that specialises in such technology. During a recent product demo at a Macau industry conference, company executives boasted to casino operators that their gambling clientele will never realize that they're being watched closely and tracked. The Las Vegas-based tech company specializes in chips that can be traced unnoticeably, informing operators of wagers and potential game outcomes.