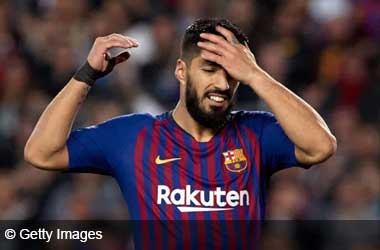 Luis Suarez has been with FC Barcelona for over 5 years and has been one of their star players during this tenure. However, new head coach Ronald Koeman was not very keen on having Suarez as part of his plans going forward.
This prompted Suarez to look for a new club and it appeared that he was going to join Juventus and play with Cristiano Ronaldo. Suarez who is from Uruguay had to pass an Italian citizenship test in order to be eligible to join Juventus.
The 33 year old striker took an Italian language test on September 17 as part of his Italian citizenship process. Luis Suarez passed his Italian language test with flying colours and that surprised a few people. Deportes Cuatro, a media outlet in Spain was sceptical over the test results and launched their own behind the scenes investigation into the test results.
ESPN UK
They claimed that Luis Suarez was given the language test questions in advance and the evaluators had already decided what marks they were going to reward him. This prompted the Perugia public prosecutor's office to launch their own investigation into the matter and they came to a similar conclusion.
Italian officials are investigating the University and Juventus to see what role they had to play in fixing the test results. The have collected documents from the University offices and are collecting evidence of the false representation provided by public officials in the citizenship test.
The University of Foreigners which carried out Italian classes for Suarez earlier admitted that he was only at an elementary level in Italian and found it difficult to speak in fluent Italian. However, Luis Suarez will not be the target of any investigation by Italian authorities.
Suarez Decides To Move To Atletico-Madrid
Luis Suarez has decided not to move to Juventus and will now make a move to Atletico Madrid. Even though he will no longer move to Juventus, Italian authorities will continue their investigation into the matter.
Juventus did not have any more room to accept a non-EU player on its team which made it mandatory for Suarez to pass his Italian citizenship test. Juventus were also not able to match his demands which led to the deal falling through.
Barcelona rivals Atletico-Madrid are reportedly going to pay Suarez £8 million per year and will also pay him so that he can terminate his contract with Barcelona a year early.