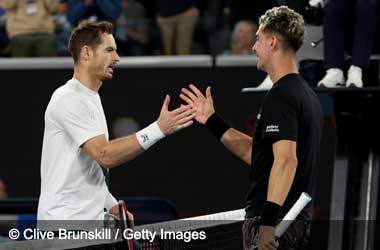 Summary
Andy Murray and Thanasi Kokkinakis put on an epic 5 hour and 45 min show
Murray ended up on the winning side as the match finished at 4 am AU Time
Tennis Australia gets flak for rigid rules including not giving Murray a bathroom break
Brit Andy Murray met Aussie Thanasi Kokkinakis in the second round of the 2023 Australian Open at Melbourne Park. Aussie fans expected Kokkinakis to beat the 35 year old Murray who was considering retirement from tennis a few years ago after suffering a hip injury.
Not many expected Murray to win but the former world number one showed amazing grit and determination to give the fans a match they will never forget!
Epic Match Ends Up Finishing At 4 AM
Kokkinakis ended up winning the first two sets 4-6, 6-7 (4/7) and it looked like he was going to wrap up the match in the third set as Murray was putting up a fight but was losing key points. Murray fought back and won the third set in a tie breaker 7-6 (7/5) and then the momentum switched as the Brit won the fourth set 6-3 to push it into an epic 5th set war.
The match went on for a total of 5 hours and 45 minutes as Murray used his experience to end up winning the 5th set 7-5 and advance to the third round of the Australian Open. This epic match ended up finishing at 4 am Melbourne time!
Murray thanked the fans after the match for staying so late/early but was not very happy with Tennis Australia and its scheduling rules. Grand Slam and top ATP tournaments usually stop the match mid-ways when it gets too late and allow the players to come back the next day and finish the match.
Tennis Australia has rules in place to force players to complete the match at one go, even if it gets very late/early. Murray criticised Tennis Australia and its rules and pointed out that he wasn't allowed to go for a bathroom break even when the match went on for 5 hours and 45 minutes. Tennis bettors will be keen to predict when the next 'longest' match will be, with Andy Murry competing in his second 5 setter in as many days, at third round 5 setter could be on the card.
Tennis Australia Not Willing To Change Rules
Tennis great Martina Navratilova took to Twitter to call on Tennis Australia to do something about their stringent rules stating that it was crazy to have players on the courts till 4 am and pointed out that no other sport demands this!
It is essential we create better rules in tennis regarding the weather(light and wind) and starting times or cutoff times for matches. Murray and Kokkinakis will finish around 4am. Crazy- no other sport does this @AustralianOpen @ITFTennis

— Martina Navratilova (@Martina) January 19, 2023