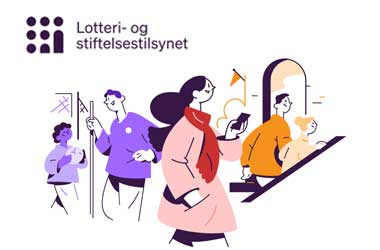 Summary:
Under the changes, Lottstift can order ISPs to block access to unlicensed sites
The measure is aimed at protecting vulnerable customers from illegal platforms
The move is also seen as a way to strengthen Norway's gambling monopoly system
Norway's gambling regulator Lottstift will gain new powers under new amendments to the country's gambling laws proposed by the country's Ministry of Culture and Equality.
The changes will authorize Lottstift to order internet service providers (ISPs) to block access to unlicensed offshore sites. The move is part of the government's intensified efforts to curb the black market.
Lottstift Could Order DNS Blocking of Unlicensed Sites
The proposal follows concerns raised by authorities that some online gambling companies are offering their services to Norwegians without a license, which is in breach of Norway's online gambling laws. That prompted Lottstift to order unlicensed firms to terminate their Norwegian operations, with major online gambling providers like bet365, Kindred, Betsson, ComeOn and PokerStars among those flagged.
While the regulator declared back in September that such operators had already pulled out of the Norwegian market, some of them maintain that they are not actively targeting Norwegian players. Kindred, for instance, argued that its services can be accessed by customers in Norway as the operator is active on the international market through its Malta license. But it asserted that it never actively targeted Norwegians.
To address that issue and ultimately prevent local players from accessing unlicensed platforms, Lottstift previously hinted at getting those sites blocked in Norway under upcoming changes to the law. Now, the Ministry of Culture and Equality is making that happen by putting forward a Bill that would enforce DNS blocking of websites owned by unlicensed online gambling providers.
The Ministry stated that the main purpose of the proposal is to prevent unauthorized sites from offering their services in the Norwegian market, thereby protecting vulnerable customers. Additionally, the changes are also aimed at strengthening the country's online gambling monopoly system in which Norwegians are only allowed to gamble via Lottery Norsk Tipping which offers sports betting and online casino games, while Norsk Rikstoto offers horse race betting.
There were concerns raised about DNS blocking, including that it can be circumvented by customers, but the Ministry proceeded with the proposals after the measure gained widespread support from various groups and stakeholders, such as the Norwegian Sports Confederation and the Actis addiction treatment agency.
Keeping the Monopoly
If the amendments are approved, Lottstift will be better equipped to deal with illegal operators as Norway seeks to protect its monopoly model despite being the only remaining country in Europe to implement the system, with Sweden and Finland now inching closer towards a licensing regime.