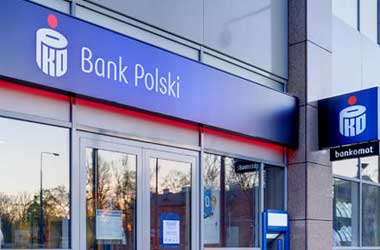 London-based Coinfirm, a blockchain compay, has entered into an agreement with PKO Bank Polski (or PKO BP), a Polish bank, to provide a proprietary blockchain-based document verification platform named "Trudatum." The project is a real-world use case of a Trudatum, a blockchain based software, which enables storing data permanently and in an immutable fashion.
The Trudatum software enables PKO BP to create and store millions of documents ever year, making the bank a leader in global blockchain technology adoption. The successful implementation also clearly doubts, if any, about the ability of blockchain technology to comply with safety and regulatory requirements of banking sector.
PKO BP, the largest bank in Central and Eastern Europe, has been running a pilot project with Trudatum for the past one year. The pilot project began as a result of the "Let's Fintech" accelerator program. Coinfirm, in the meanwhile, has been running pilot projects with clients across Western Europe, the US and Japan.
Following the agreement, Trudatum will be integrated with PKO's current systems. Furthermore, Trudatum will enable verifying the veracity of bank documents. Every document recorded in the blockchain will be allocated an irreversible hash (abbreviation) signed with the bank's private key. This will enable a client to verify the file remotely and decide whether the documents are true or tampered.
Furthermore, the bank can now perform efficient supervision of transaction history and data verification, resulting in cost and time savings. Trudatum also permits cryptographic security for digital signatures. This means, digital data, including files and documents, can be handled with confidence.
Jakub Fijołek, CTO and co-founder of Coinfirm, said
"The impact of our technology can be described pretty simply: it fills the gap between innovation and the need for security which lies at the foundations of every serious global organisation. Implementation of Trudatum by one of the largest financial companies in Central and Eastern Europe brings huge satisfaction to us, and is a milestone for the market.

"Coinfirm is just two years old, but we are already providing bank-grade compliance to blockchain and crypto companies around the world. We make it possible for firms to use blockchain technology without having to worry about security or navigating evolving regulations."
Paweł Kuskowski, CEO and Co-Founder of Coinfirm, added
"Polish banks, who are already very innovative, continue to push the boundaries and pioneer applications of new technologies such as blockchain. This partnership, with one of the biggest financial institutions in Europe, is a gamechanger for the global market. We're sure that, in the coming years, financial institutions all over the world will be looking up to PKO BP and learning how to successfully apply blockchain. First, it demonstrates that big players are ready for blockchain implementations, and that there are a number of very significant use cases which are adding huge value not only to the bank, but also to its customers. Second, it overturns the myth of banks' restraint with regard to blockchain innovations.
"Polish institutions have moved deftly when it comes to testing, and now implementing, blockchain solutions that provide greater efficiency and security. Financial innovation hubs like London run the risk of being left behind when it comes to crypto."
Grzegorz Pawlicki, Director of PKO Bank Polski's Innovation Bureau, says
"Blockchain technology can revolutionise the financial industry, which is why we pay so much attention to it. We want to understand it well and use it as widely as possible. Blockchain meets the key requirements for durable media, guaranteeing confidentiality and integrity of the documents delivered to clients, which additionally increases the attractiveness of this technology for the banks."