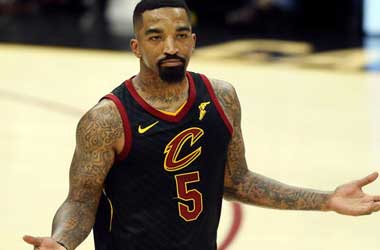 Shooter Earl Joseph "J. R." Smith III came out publically and admitted that the Cleveland Cavaliers have no use for him and the feeling is mutual as he would also like to move on at the earliest. The Cavs have played Smith for just 48 minutes during four games this season which is a clear indication of how they expect to go during the on-going season.
Smith who is 33 year's old was an integral member of the Cavs and averaged around 28 minutes per game during the last season. However with a 0-6 start to the season, the Cavs have made a decision to get rid of the veterans and focus on new talent and building a team for the future. They recently fired their coach Ty Lue and Smith could also soon be on his way out.
While Smith is willing to leave the Cavs, there are not a lot of teams that will be interested or can afford to take him at this point in time. His contract with the Cavs is about to end but Smith does not want to wait it out and prefers to be traded immediately as he is no longer happy staying with the Cavs. NBA Teams who want his services will have to be willing to shell out $13 million in order to secure his services.
There are not a lot of teams who would be willing to spend that kind of money right now, especially given the fact that many analysts think that J. R. Smith is coming to the end of his career and his game is still very much one dimension. His shooting 3 point average last season was at 38 percent which is not bad but the bigger concern for teams is whether that is going to get better or decline in the next year or two.
ESPN
Two Teams That Could Show Interest
There are four NBA franchises that we think could be interested in a trade for J. R. Smith.
LA Lakers: The Lakers could use a shooter and given the fact that his old Cavs mate Lebron James in on the team, there is a possibility that they could go after Smith, provided James pushes for the trade.
Detroit Pistons: The Pistons have Andre Drummond and Blake Griffin upfront but they could use someone like Smith at the back to help with the 3 pointers.