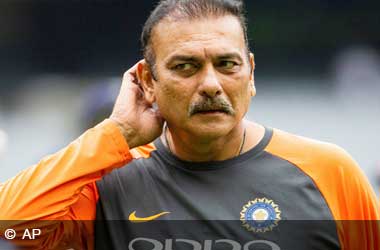 The head coach role of the Indian cricket team is one of the most high pressured jobs in international sports but at the same time extremely rewarding in terms of financial compensation and benefits.
The Board of Control for Cricket in India (BCCI) announced earlier this month that they would not be automatically renewing current head coach Ravi Shastri's contract (pictured) which expires after the West Indies tour is completed in early September.
The BCCI stated that if Shastri wanted another crack at the job, he would have to send in his application along with other interested candidates. The deadline to submit an application is July 30, 5 pm IST.
There were many who expected Shastri to continue in his role as head coach given the strong relationship he has with Indian captain Virat Kohli. However, Shastri has come in for criticism for not doing enough to fix India's middle-order crisis in ODI's which ultimately cost India a place in the 2019 World Cup finals.
The BCCI is not only looking for a new head coach but is also taking on applications for support staff. The positions include a bowling coach, batting coach and fielding coach.
Top Candidates Expected to Apply
Some of the top candidates who are expected to apply for the head coach position include the former Sri Lankan captain Mahela Jayawardene, former Australian all-rounder and world cup winner Tom Moody and former Indian opener Virender Sehwag. The BCCI will most likely receive a lot more applications from individuals who strong coaching credentials but little international cricket experience.
Tom Moody has applied for the head coach role in the past and has come very close to being selected but things did not work out for him in the end. He will once again be a favourite but so will M Jaywardene given the fact that he is the head coach of the Mumbai Indians – IPL franchise and has a lot of experience working with a lot of Indian players.
The one support staff application that has been confirmed comes from South African Jonty Rhodes who has applied for the fielding coach role. Given the credentials of Rhodes as a fielder, it is difficult to see anyone else getting ahead of him.
The interview and selection process will be determined by the Cricket Advisory Committee (CAC) which comprises of former Indian captain Saurav Ganguly, Sachin Tendulkar and V.V.S. Lakshman.
The BCCI is yet to officially disclose the list of applications it has received for the head coach and support staff positions. We can expect an official announcement towards the end of the month!