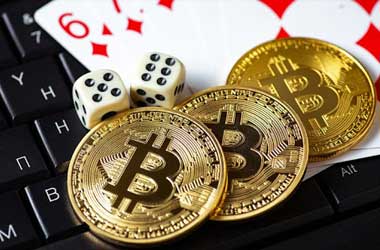 The Bitcoin (BTC) rally seems to have halted for the time being, after hitting an all-time high of $58,000 in February, but crypto payment supporting casinos is rising in popularity.
Currently, Bitcoin trades in a narrow range of $45000 to $50,000, but that did not cause a dent in the enthusiasm of using cryptocurrencies in online casino games. Bitcoin casinos have been here since the introduction of Bitcoin and blockchain technology a decade back. Nevertheless, through a major portion of their history, casinos were limited to tech savvy people.
As time progressed, blockchain technology advancements lured gamblers who wanted additional transparency and new games, in addition to quick and secure transactions.
As there is no clarity on the legality of Bitcoin and other cryptos in several countries, gamblers prefer to use in places where there is a huge restriction on the use of fiat money for online gambling. Mainstream adoption of cryptos is yet to be attained, but seems to be on course as long as Bitcoin remains in a long-term uptrend.
As per SoftSwiss, a popular game aggregator, crypto fueled casino traffic – a huge share of which is through Bitcoin – has increased 300% last year. Considering the aforesaid fact, Andrey Starovoitov, COO of SoftSwiss, trusts that there will be "more gaming studios supporting cryptocurrencies in their games".
Bitcoin can no longer be categorized as exotic. The sharp rally over the past few months have made it a lingua franca of common people. Even people with little understanding of its core technology are willing to invest in the numero uno crypto. For example, a frequent casino player coming across a welcome bonus of 0.50 Bitcoin or even 1 Bitcoin will get interested in using the crypto for gambling, considering the current value and rising popularity.
As CEOs of large enterprises, Elon Musk for example, promotes Bitcoin and other cryptos, new windows of business opportunities open up for online casinos. The blockchain technology, which forms the core of Bitcoin, can also aid casinos in offering games that are provably fair, with direct payments to wallets of customers.
Currently, there are Bitcoin powered gambling sites that offer a thorough casino experience. Such casinos offer extensive slot machine games and also blackjack games with live-streaming functionality. Even eSports betting platforms accepting Bitcoin is rising in popularity. With Bitcoin gaining mainstream adoption, the trend of online casino games accepting Bitcoin is likely to continue.