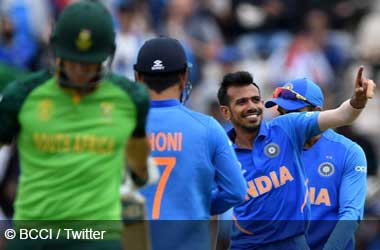 India were kept on the back burner for some reason by the International Cricket Council (ICC) and were scheduled to play their opening match at the 2019 ICC World Cup nearly a week into the tournament. They took on South Africa who had already played two matches and lost both of them.
This South African team is clearly the weakest team that has played at an ICC World Cup since the Proteas returned to World Cricket in 1992. One of the reasons they look weak on paper is because they have had a number of key players drop out due to injury. strong>Dale Steyn has been ruled out of the World Cup and Lungi Ngidi is expected to sit out for the next week.
India took full advantage of this weakened South African line-up and put up a great performance that restricted the South Africans to just 227. The South Africans lost 5 wickets to the spin twins as Yuzvendra Chahal picked up four crucial wickets in the middle and Kuldeep Yadav chipped in with one. A partnership between Chris Morris (42) and Kagiso Rabada (31) towards the end of the innings, took South African past 200.
Rohit Sharma Takes India Home
A 227 total was never going to be enough against a powerful Indian batting line-up and a weakened South African bowling line-up. India lost the out of form Shikhar Dhawan early but Rohit Sharma decided to play an anchor role and get himself in. He put away his flamboyant shots, put his head down and formed partnerships with Virat Kohli (18), K. L. Rahul (26) and MS Dhoni (34).
Rohit Sharma notched up yet another century and remained unbeaten to take India home along with Hardik Pandya (15). Sharma finished on 122 which included 13 fours and 2 sixes with a strike rate of 84. He received the man of the match award for his performance and will be keen on continuing his good form throughout the tournament.
ESPNcricinfo
India Ready To Take On Australia
Indian captain Virat Kohli did make reference during the post-match interview to the long waiting period before their first game.
However, he was happy to get the win and see his key players perform as it gave them a lot of confidence for their next game.
India's next match is against defending champions Australia who they will face on June 9 in London.