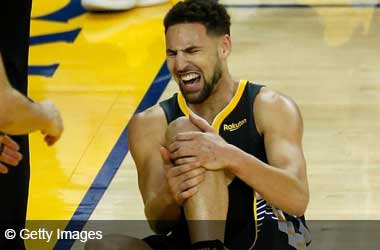 The Golden State Warriors were the most dominant team in the NBA from 2015 and 2019 and went on to appear in 5 NBA finals, winning three NBA Championships. A lot of their success was due to the Splash brothers (Stephen Curry and Klay Thompson).
The Warriors came very close to winning the 2019 NBA finals but eventually fell to the Toronto Raptors. One of the reasons why they struggled was due to an ACL injury that Klay Thompson suffered in Game 6 that not only ruled him for the finals but also the next season.
Klay Thompson and the Warriors were devastated when they heard he would be forced out of the 2019-2020 season. The Warriors fielded a very different team last season as Thompson was out and Stephen Curry also missed a lot of games due to a broken left hand that kept him out for close to four months.
The absence of the Splash brothers hurt the Warriors and they ended up having one of their worst seasons and finished with a 15-50 record. The Warriors were looking to turn things around this season but it looks like that is going to be a difficult task as Klay Thompson has injured himself again.
ESPN
Warriors GM Bob Myers received a call earlier this week and Thompson informed him that he had hurt himself playing a pickup game in LA. Thompson completed an MRI on 19 November which showed that he had torn his right Achilles tendon that will require surgery to fix. This injury has effectively ruled out Klay Thompson for the upcoming NBA season.
Warriors Will Struggle Without Thompson
Thompson is struggling to accept the news that he will have to sit out for a second consecutive season. His teammates are also finding it difficult to cope with the news as Thompson is an integral part of the team. The Warriors will struggle to be a dominant force as they no longer have the firepower they need to push top teams like the LA Lakers, Brooklyn Nets and the Houston Rockets.
The Warriors will have to make some important decisions going forward with regards to their team combination. Myers decided not to change the team's strategy and went with James Wiseman from Memphis as their no 2 draft pick. The Warriors need to get another All Star in to support Curry or be prepared for another lacklustre season.