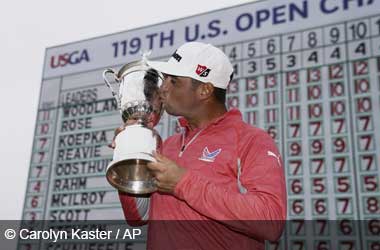 There were no surprises going into the 2019 US Open as to who was the favourite to win. That honour went to Brooks Koepka who had won the last two U.S Open titles (2017, 2018) and was looking to create history by making it a threepeat.
Koepka has had a fantastic run over the last few years winning the PGA Championship in 2018 and 2019.
He also won the PGA Player of the Year in 2018 and the PGA Tour Player of the Year awards in 2018. The 29 year old is ranked number 1 in the World Golf Ranking and he played really well at Pebble Beach Golf Links.
However Koepka did not create history because even though he played well, Gary Woodland played even better. Woodland showed great composure throughout the tournament and took it one hole at a time. He grew in confidence and did not allow a final surge from Brooks Koepka and former champion Justin Rose to throw him off his game.
FOX Sports
There were a lot of Koepka fans present on Sunday who were wondering if Woodland let the pressure get to him and allow Koepka to take the lead. That never happened as Woodland played a classy game on his final six holes, avoided bogeys and finished in style with a 30 foot putt on the final hole to secure a comfortable win.
In a statement, Woodland said
I never let myself get ahead. Once that went in, it all came out of me. It's special to finish it off here at Pebble Beach
US Open Pays Out $12.5 Million In Prize Money
The 2019 US Open had a purse of $12.5 million which would be split amongst the 79 golfers who made the shortlist. The prize money made the US Open the largest among the 4 majors this year and is tied with the Players Championship.
Gary Woodland who we had given odds of 66/1 walked away with the top prize of $2.25 million while Koepka who finished in second place had to be content with $1.35 million. Koepka was gracious in defeat and praised Woodland for playing a great round on Sunday.
The 35 year old Woodland has won thrice on the PGA tour. He was thrilled with his first major championship victory and will benefit immensely from this experience as well as the millions in prize money!