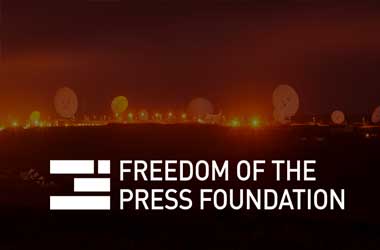 Freedom of the Press Foundation, an organization which fights for the right to freedom of information, has announced its decision to accept donations in the form of cryptocurrencies. The donations will be used to fund several projects that cater to press freedom. The organization was also excited to announce the receipt of 1,000 ETH as donation from a blockchain company named Mainframe, which is building a network for DApps and censorship resistant communication.
The Freedom of the Press Foundation has stated that it is accepting Bitcoin (BTC), Bitcoin Cash (BCH), Ethereum (ETH), Litecoin (LTC) and ZCash (ZEC). The organization plans to add more cryptocurrencies in the future, one of them being a shielded ZCash address. In case, a donor is interested in funding any of the projects with other cryptocurrencies, theFreedom of the Press Foundation is willing to consider it on a case by case basis.
As mentioned earlier, Mainframe, which shares a common goal with Freedom of the Press Foundation, has made a generous gift to support the latter's projects. It is the first big donation in cryptocurrency received by the Foundation. While appreciating the donation issued by Mainframe, the Foundation stated that the money will go a long way in protecting journalists and whistleblowers. The Foundation was also happy to note that Mainframe is working to fight for freedom of information using the technology.
Projects funded by Freedom of the Press Foundation
SecureDrop – an open source whistleblower platform that allows sources to anonymously send documents and messages to journalists. It is in use at more than 60 news organizations.
The U.S. Press Freedom Tracker – a website operated by Freedom of the Press Foundation that brings together more than two dozen press freedom groups to systematically count and document all press freedom violations in the United States.
Secure the News – tracks the adoption of HTTPS encryption, including associated best practices, by news organizations around the world.
Haven – an Android app that lets you turn a smartphone into a personal physical security system by using its motion, sound, vibration and light detectors to watch for intruders.
Archive the news – maintains complete archival copies of news websites threatened by wealthy buyers pushing an agenda or litigants with deep pockets.
@FOIAFeed – a Twitter account that highlights news stories that rely on the Freedom on Information Act, landmark US legislation that protects the public's right to request information from the government about its actions.
Sunder – an open source digital security tool that lets you split passwords and passphrases in such a way that multiple parts are required to recover the whole.
Mainframe stated that now is the time to use technology to save security and privacy. If not, those two aspects of freedom will only remain as a dream. Mainframe stated that it was one of the main reasons to donate a huge amount to Freedom of the Press Foundation. Mainframe also referred to Edward Snowden's contribution in highlighting the broken networks and said that it is a perfect choice to support the organization he is working with.
Mainframe believes that decentralized technology has a great potential to enable individuals resist censorship and surveillance.