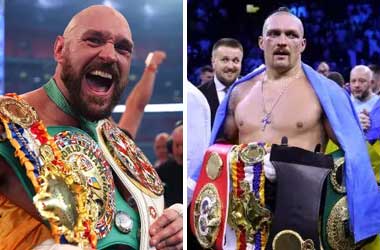 Summary
IBF backs down from forcing Oleksandr Usyk to fight Filip Hrgović
This has reopened talks for Usyk to fight Brit Tyson Fury
Promoter Frank Warren confident of fight taking place in March 2023
Boxing bettors and fans were eager to see WBC heavyweight champ Tyson 'the Gypsy King' Fury take on Oleksandr Usyk who holds the unified WBA, IBF and WBO heavyweight titles in late 2022 but the fight did not materialize.
Tyson Fury went on to fight Derek Chisora for the third time in Dec 2023 and as expected had an easy night.
Talks Open For Potential Fury vs. Usyk Fight
The IBF were keen on getting Usyk to fight Croatian Filip Hrgović next but have suddenly had a change of heart and have now said that the WBA mandatory challenger will be Brit Daniel Dubois who is managed by Frank Warren.
Warren is also the promoter for Tyson Fury and hence it gives him control to push Fury ahead and set up a huge heavyweight clash between Fury and Usyk. Warren was very keen on getting Fury and Usyk to fight in 2022 but Usyk could not make the dates that Fury wanted.
Talks have now reopened for a massive heavyweight fight as both camps appear to be interested although the terms and conditions for the fight have not been worked out. The two sides need to decide if all four belts will be on the line or if they will fight for just one belt. They also need to work out the location which will most likely be between the United States, the UK and Saudi Arabia.
Warren Confident Fight Will Take Place In March 2023
The big fights in boxing rarely get made much to the disappointment of the fans. A fight between Tyson Fury and Anthony Joshua had the potential to be one of the biggest fights in heavyweight boxing history but did not materialize.
Fury vs. Usyk will not be on that level but it is still a very appealing fight to boxing fans around the world. Warren is confident that this fight will materialize and is pushing for the fight to take place in March 2023. That may not be very realistic given that Fury fought in December 2022 and will need to go through a full training camp!