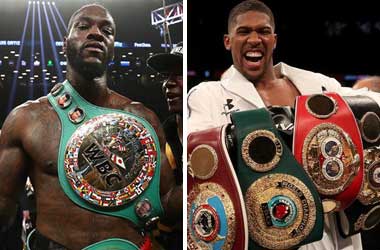 World Boxing Council (WBC) champion boxer Deontay Wilder's team released a statement this week which indicated their apprehension staging a potential blockbuster fight with Anthony Joshua in the UK, because of how UK Anti-Doping (UKAD) handled the Dillian Whyte case.
In July, Dillian Whyte was set to fight Oscar Rivas in London. He was cleared for the bout by UKAD and the British Boxing Board of Control (BBBoC), despite Whyte testing positive for the banned substance Dianabol and changing his gloves at the last minute.
Rivas and his team did not find out about Whyte's failed drug until after the fight concluded. Rivas ended up losing the fight.
Jay Deas who is Wilder's trainer and co-manager stated that the Wilder camp believes that the way UKAD handled the Whyte case sets a dangerous precedent for how boxing bouts are staged in the UK.
The Fight Game
While Deas emphasised that while Wilder would love to fight in the UK, there is a lot of concern regarding the UKAD's decision to withhold Whyte's positive drug test result from the Rivas camp, as well as their allowing of a last minute change of gloves without examination from the opposing team.
Deas said that such decisions may indicate a lack of fairness in the UK boxing scene, and may even endanger the fighters. He claimed that if a Wilder-Joshua bout was to happen in the UK, it is imperative for the UKAD and the BBBoC to resolve the concerns expressed by the Wilder camp.
UKAD's Whyte Investigation Concluded
UKAD's Whyte investigation findings have now been released to the public. UKAD affirmed Whyte's innocence, stating that the Dianabol levels in his sample were so low that they could not have affected his performance in the Rivas bout, and removes the possibility of any wrongdoing on Whyte and his camp.
Furthermore, they stated that the last minute change of gloves was a non-issue; since the gloves were typical of the kind used in boxing.
Wilder-Joshua Blockbuster in the Making
Wilder and Joshua, two of the most decorated heavyweight fighters in recent memory, have long been unable to agree to terms for what would be one of the most anticipated and lucrative fights in boxing history.
Joshua defeated Andy Ruiz Jr. over the weekend to retake his heavyweight titles, making a potential Wilder-Joshua bout that would unify the heavyweight titles one step closer to reality.
If Wilder retains his WBC belt by defeating Tyson Fury in a rematch next year, a Wilder-Joshua fight that has been years in the making may finally be on the cards for boxing fans worldwide. For his next bout, Joshua has been ordered to face Kubrat Pulev as his mandatory IBF challenge within the next 6 months.