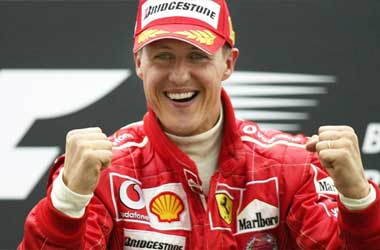 Fifty-year-old racing legend Michael Schumacher is now reportedly "conscious" after undergoing pioneering stem cell treatment at the Georges-Pompidou Hospital in Paris.
Fédération Internationale de l'Automobile (FIA) president Jean Todt shared the good news with the media after visiting the seven-time Formula One world champion for 45 minutes earlier this week. Having developed a close bond over the years, Todt was Schumacher's former boss when he was still in Ferrari's roster.
The German racer arrived at Georges Pompidou Hospital on Monday and everything was kept under the radar. Schumacher has not made a public appearance since being involved in a tragic skiing accident in the French Alps in 2013. Schumacher had to be put into a medically induced coma after hitting his head on a rock during a descent.
He had sustained serious head injuries even while wearing a ski helmet. It has been a long road to recovery for the former professional racer and the family have been very protective, keeping him under wraps.
Nine News Australia
Stem Cell Treatment Working Wonders
The Scuderia Ferrari icon is reportedly under the care of renowned French cardiac surgeon Professor Philippe Menasche. Known for performing the world's first embryonic cell transplant in 2014 on a patient with heart failure, the 69-year-old doctor's pioneering work is in stem cell breakthroughs.
Schumacher is said to have been subjected to transfusions of inflammation-reducing stem cells, part of Menasche's ongoing care to remedy the devastating head injuries the thrill-seeking F1 champion had sustained some six years ago during his fateful skiing accident.
Georges-Pompidou Hospital's state-of-the-art operating facility has reportedly been transformed into a bunker with tight security, as per the request of Schumacher's family who require privacy.
Le Parisien has also quoted an unnamed nurse in the cardiology department, has also claimed that the most successful driver in the history of the F1 sport is now indeed "conscious".
Health Scare Before Georges-Pompidou Admission
Michael Schumacher, who has been recovering at his family's estate in Lausanne, Switzerland for years now, turned 50 on January 3.
Before being rushed to Georges-Pompidou Hospital, he reportedly suffered a fresh health scare. Due to the unexpected health problem, Schumacher's stem cell treatment had to be deferred until this week to avoid complications. It was originally scheduled for the last week of July.
Details of Schumacher's treatment have been shrouded in secrecy at the behest of Professor Menasche for propriety reasons and medical confidentiality.
Sources reveal the former F1 champ had already made at least two visits to the Georges-Pompidou Hospital in Paris earlier this year.