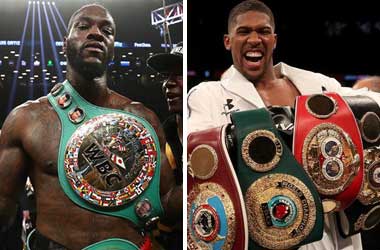 When we went into 2018, Brit Anthony Joshua was the biggest name in the heavyweight division that everyone wanted to fight.
Joshua holds three of the four heavyweight titles (IBF, WBO,WBA) and is considered the money fight.
American Deontay Wilder has been calling out Anthony Joshua to step into the ring with him and while there has been a lot of rumours about contract negotiations and percentage cuts, nothing has materialized.
Wilder went onto to fight Brit Tyson Fury on December 1 at the Staples Center and that turned out to be one of the best heavyweight fights of all time that ended in a draw.
Since then, both Fury and Wilder have claimed they are both the top draws in boxing because of their performances and have expressed interest in a rematch.
Anthony Joshua's camp is reported to have reached out multiple times to Wilder's camp about a potential fight in April. However, manager Eddie Hearn has confirmed that Deontay Wilder's camp isn't showing much interest in fighting Joshua and if a deal is not worked out in the next 10 to 14 days, Joshua will have to pick another opponent.
Wilder Not Impressed With Contract Offer
At this point in time, it looks like Deontay Wilder is not very impressed with the contract offer. Wilder has the option of fighting Fury for a second time and is therefore using his leverage to push for more money with Joshua.
In a statement, Hearn said
We offered him 65/35, with a $15million guarantee. It was a guaranteed two-way fight. If Wilder lost we'd still do fight two in America, if Wilder won, we'd still do fight two in America. If Wilder lost in the first fight, he would get 70/30 in the second fight, so he'd get another crack with just five per cent less. If he won, it'd be 50/50. Now we're increasing that offer. We'll go to 60/40, no problem
While Wilder dances around the terms of the offer, there are reports that Tyson Fury has thrown his hat into the ring and is interested in fighting Joshua in April. It appears that Fury is not interested in a split but prefers a flat offer.
Hearn has also confirmed that if Fury and Wilder rematch, the winner will stand a better chance of getting a 50/50 split if they then decide to fight Anthony Joshua.
Fight Hub TV