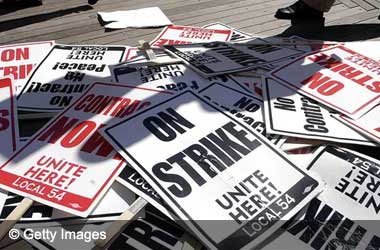 Summary
Caesars Entertainment, MGM Resorts, and Hard Rock face possible employee strikes.
The union set a deadline of 12:01 am on Friday for negotiations to come to an end.
Employees want a pay raise to continue recovering from COVID and deal with recent inflation.
Negotiations between certain Atlantic City casino companies and the Unite Here Local 54 union do not seem to be getting anywhere. Negotiations met with Caesars representatives today and MGM Resorts International yesterday.
Talks are set to take place with Hard Rock on Thursday. So far, no new agreements have been signed. Casinos have until 12:01 am on Friday to reach a new contract or the strike will take place. MGM and Caesars would be affected as of July 1 and Hard Rock on July 3.
Ample Opportunity
Union contracts with casinos in Atlantic City came to an end on May 31. Casinos have had plenty of time to reach new agreements, but nothing has been set in stone as of yet. Union president Bob McDevitt stated that the casinos have had ample opportunity to gain momentum in negotiations and create an agreement. He says it is up to the companies as they know what the union objectives are.
Bally's and Ocean Casino Resort are not tangled up in the mess as they were able to come to what is known as a me-too agreement. They committed to adopting whatever terms are listed in contracts set by the larger casinos.
On Tuesday, the union began signing up members for reduced-rate payments that are provided by a strike fund in anticipation of the pending strike. Signups are supposed to continue throughout the week.
What's the Hold Up?
It is unclear as to why the casinos are not agreeable to the demands of the union. Media reports have indicated that employees want a raise to around $18 an hour to be able to continue recovering from the COVID-19 pandemic affects and the rate of inflation as it stands now.
The union's goal is to ensure that its employees are making enough to be able to stay afloat as the cost of gas, food, and rent, as well as other expenses, continue to increase. Many employees say they helped casinos stay in business during the pandemic and should be compensated for their actions.
From the outside looking in, it seems the casinos do not want to provide a pay raise in the significance that the employees would like to see. It will be interesting to see if the casinos end up cutting a deal by Friday or if the fight will continue as employees begin to strike at several of the major US casino properties during one of the busiest holiday weekends of the year.