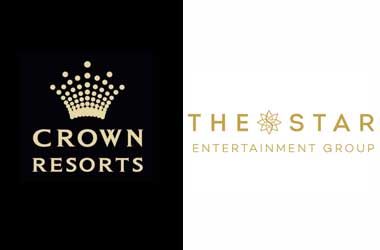 Crown Resorts, the troubled Australian casino operator has had a busy weekend as it received multiple offers for a potential takeover.
The Blackstone Group, which is a giant investment group in the U.S. had earlier submitted a bid for Crown Resorts paying out $11.85 per share. Blackstone sent a new bid this weekend and raised the share price buy out to $12.35 per share.
Star Entertainment, which is Crown's biggest competitor in Australia also submitted a bid that is better than the Blackstone bid. Star Entertainment made an official announcement on Monday claiming that it had submitted a bid where it would way over $14 per Crown share.
To put things into perspective, Crown shares were trading at just over $12 but once news of the Star Entertainment proposal hit the market, share prices spiked to $13.14. Star has offered to pay shareholders $12.50 in cash per share for a max of 25 percent of their share portfolio.
7NEWS Australia
If Crown Resorts accepts the potential offer from Star Entertainment it would create a gambling monopoly in Australia and one of the biggest casino operators in the APAC market with an estimated worth of $12 billion. The new merger proposal puts Crown estimated value at $8.4 billion.
Crown Resorts acknowledged that it had received a second proposal from Blackstone and a new proposal from Star Entertainment. Crown did not provide any indication as to how long it will take to review both offers and make a decision.
Will Crown Continue To Look For A Better Offer?
Crown Resorts is in a good position right now as its share prices have gone up with the Star Entertainment news. Crown might just look to hold out a little longer to see if the Blackstone Group submits a third offer to top the Star Entertainment offer.
Reports emerged in early 2021 that Sands Corp was also interested in acquiring Crown Resorts. Sands Corp. has decided to sell all of its properties in Las Vegas and focus on the Asian market. The Crown Resorts acquisition would allow it to gain control of the Australian market and become a dominant player in the APAC region.
As of now, it looks like Star Entertainment could be the frontrunner to buy out Crown Resorts. Star has already approached the Australian Competition and Consumer Commission (ACCC) about its potential merger as the ACCC would need to approve the deal for it to go through.