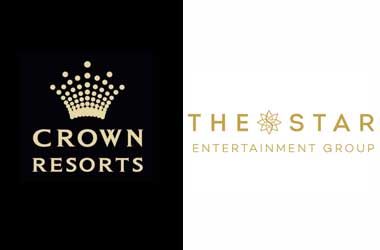 Crown Resorts and Star Entertainment are the two biggest casino operators in Australia and compete fiercely for market share. The two casino operators have taken a strong hit to their gross gaming revenues (GGR) due to COVID-19.
Credit Suisse analysts say that this is the right time for Crown and Star to think about a potential merger. The two casino operators have not only suffered a decline in GGR but their business model has also been impacted. Star and Crown have depended heavily on junket operators who bring in VIP gamblers from China.
These VIP gamblers are known to spend millions of dollars and contribute a significant portion to GGR numbers.
China is considering new laws that will impose strict penalties on junket operators and VIP gamblers who take money out of China and spend it at overseas casinos.
Should the two operators agree to a merger, it would most likely result in a $12 billion deal that will create the biggest casino operator in Australia. The merger would work well for the new company as Crown has a strong presence in Perth and Melbourne while Star has properties in Queensland and Sydney.
Credit Suisse analyst claim that should the shareholders of both companies agree to a merger, it would create company assets that have a fair value that is 9x the FY23 forecast earnings and a consolidated company that will have an EBITDA of $1.33 billion in FY23.
The potential merger would be subject to approval from multiple state regulators.
Crown Resorts Reputation Takes A Beating
Crown Resorts and its executives have taken a media beating in recent weeks as the New South Wales Independent Liquor and Gaming Authority has questioned Crown Resorts over potential ties to criminal activity.
Former chairman James Packer admitted to serious lapses when he was questioned and admitted that he might have to sell his 36.81 percent stake in Crown Resorts in order for Crown Resorts to continue to keep its license.
Crown's reputation was further tarnished this week when chairwoman Helen Coonan told regulators this week that money laundering did take place at Crown Melbourne but it was because of the ineptitude of the staff.
Credit Suisse analysts claim that a deal could be made for Packer's shared to be bought back in such a manner that Star Entertainment would own 45.6 percent of the consolidated company while Crown Resorts would have a 54.4 percent stake.