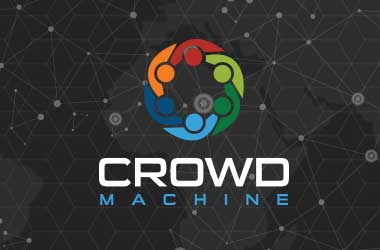 It is not an easy task to create decentralized applications and smart contracts. The process takes time, even for experienced programmers. Likewise, deploying decentralized apps is a complex task. Block chain networks tend to slow down, while running complex decentralized apps. All these difficulties may come to an end with the launch of Crowd Machine, an advanced distributed computer.
The app development engine, within the Crowd Machine does not require any coding. Therefore, DApps and smart contracts, without any limitation, can be created by anyone.Crowd Machine is a product of Metavine Labs, creators of the renowned Metavine Genesis product.
Crowd Machine is block chain agnostic. Therefore, apps can be created by leveraging any block chain, including Bitcoin, Ripple, and Ethereum. Additionally, side chains can be created without facing any kind of functional limitations of the existing block chain networks.
Crowd Machine consists of three core components, namely Crowd Computer, Crowd App Studio and Crowd Share. The Crowd Computer is a global, decentralized app execution engine. It has been designed to execute decentralized apps and block chain smart contracts that meet any requirement.
The Crowd Computer consists of a peer-to-peer network of Crowd Virtual Machines ("CVM") that run on the peer devices. Device owners are compensated for the use of their surplus processing power to run the CVM.
The Crowd App Studio is embedded in the Crowd Computer. It enables anyone to create decentralized apps without writing code. The third component, Crowd Share, is a GitHub-like centralized data storage facility which can be used free of charge by developers to help build their apps.
Crowd Machine
Crowd Machine allows logic to be defined as natural expressions. Therefore, smart contracts can be built with relative ease. Once a contract is created, the Crowd Virtual Machine deploys the smart contract to its respective test networks. Further, the Crowd Virtual Machine publishes the contract methods within the Crowd Machine App Studio. That will enable developers to validate the smart contracts.
Finally, the Crowd Machine Network will evaluate pricing across each block chain whenever a smart contract is required and use the one with the best price. Therefore, it avoids the need to understand the specifics of any block chain. To sum it up, Crowd Machine
i. is fast and runs any decentralized app.
ii. makes it easy to develop a decentralized app or smart contract.
iii. reduces the time for development of DApps or smart contracts.
iv. makes deployment of DApps a one click process.
v. makes hosting of DApps inexpensive.
vi. is blockchain agnostic.
vii. has a decentralized market place for developers to sell their apps.
Crowd Machine's CEO and Founder, Craig Sproule said:
"As the number of block chain providers grows, app developers will have an increasing number of options to choose from. With the release of our auto-generation of smart contracts, we're making it possible for them to not have to make a decision that locks them into one particular vendor. Our users will generate smart contracts for each of the blockchains and be able to focus on their app without having to learn how to write a contract for all the different options."