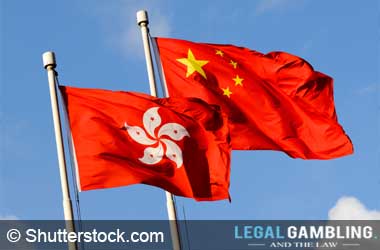 The 2018 FIFA World Cup started on 14 June and as the football action heats up in Russia, massive football betting is expected to take place all over the world at both legal and illegal sports betting outlets. The illegal sports betting market in Asia is expected to thrive in the next 30 days as sports betting is banned in most Asian countries which gives illegal sports betting operators a huge payday.
Sports betting is legal in Hong Kong and illegal in China but a group of unlicensed sports betting operators have set up operations in Hong Kong and Guangdong province which is just an hour away from Hong Kong. This massive sports betting underground racket was raided after police from both Hong Kong and Guangdong did a series of arrests that scooped up 50 members of the same gang of illegal bettors.
In Hong Kong, 45 people were arrested in 20 different locations across the city in a comprehensive sweep that took down the major players of the illegal sports betting ring. Along with the arrests were the seizure of the sports betting records and gambling materials. In Guangdong, 5 were arrested who were from the same gang.
The main arrests and seizures were at Hok Cheung Street, Hung Hom. This place was originally an industrial building but had been converted to a gaming clubhouse that serviced the gang's favored clients. The Organized Crime and Triad Bureau did a clean sweep during Operation 'Blazespike' and seized a lot of records and material. The raid saw a total of HK$78 million worth of sports betting records, cash worth HK$2.5 million was also seized, along with a wide variety of gambling tools, liquor and drugs.
In a statement, a source in the Hong Kong Police said
Initial investigations showed that clients could place bets on football matches and horse racing on the premises, where they were offered red wine and played on arcade game machines.
Hong Kong And China To Continue Sports Betting Crackdown
Hong Kong Police commented that an investigation was still ongoing and it was possible that there would be more arrests connected to the raid in the future. This raid is just the latest sign of crackdowns going on including Money Laundering as the 2018 World Cup happens. The Organized Crime and Triad Bureau is leading the way and coordinating efforts to catch illegal sports bettors. The plan is to continue until the World Cup ends on July 15. Police are stepping up their intelligence-gathering operations, especially online, to find and arrest these illegal sports betting operators.