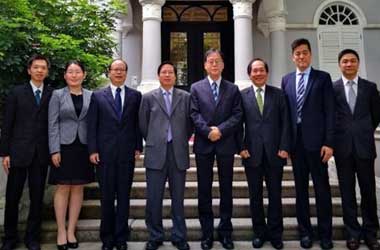 Financial regulators from Macau, Hong Kong and China have agreed to establish a taskforce called the Financial Security Expert Alliance (FSEA) in order to improve financial security and stability.
The partnership between the three regions is expected to help the authorities adopt a coordinated approach towards achieving key financial goals such as better control over money laundering and terror financing.
The taskforce was announced after top executives from regulatory agencies of the three regions – Monetary Authority of Macao, People's Bank of China and the Hong Kong Monetary Authority – met recently in Macau to finalize details.
A statement released by the Monetary Authority of Macao noted that the Financial Security Expert Alliance would be able to benefit from Macau's unique systems that have been put in place to better address issues related to financial security. The Macau government has in recent months taken several steps to control money flowing into the city via VIP gambling, particularly after the recent revival in the market.
One of the major regulations that was recently introduced has been to make it mandatory for customer's to provide identification if they wanted to use their China UnionPay Co Ltd cards to withdraw cash in Macau. Casino revenue is expected to be hit by this new rule according to industry analysts.
Macau authorities have introduced several other such regulations with the stated intention of curbing money laundering and capital flight.
In December 2016, the Monetary Authority of Macao rolled out per transaction limit of MOP5,000 (US$626) or HKD5,000 for withdrawals done via Mainland China bank cards in Macau ATMs. The total withdrawal limits per day was retained at CNY10,000 (US$1,447), or CNY100,000 annually.
Also in 2016, Macau shops started installing China UnionPay bank card payment terminals that required customers to present identification papers for scanning before confirming any purchase. The laws regulating money laundering in Macau have also been tightened with Macau's Executive Council introducing two changes to a 2006 legislation that has extended the definition and scope of money laundering related offences as well as their reporting. The measures related to customer due diligence have also been bolstered.
The Hong Kong Monetary Authority separately issued a statement reaffirming its commitment to fight financial crime and money laundering, indicating an integrated approach towards the issue. The regulator has also set up a Fraud and Money Laundering Intelligence Taskforce for monitoring and preventing financial crime in the region. The taskforce comprises the police force, numerous banks and the Hong Kong Association of Banks.