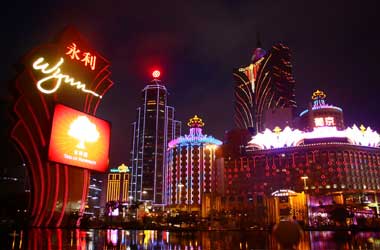 The recent introduction of fresh restrictions on purchase of foreign currency by Chinese citizens has triggered a sell-off in Macau casinos stocks. Casino operators Galaxy Entertainment Group Ltd. and Sands China Ltd. both dropped by over 3 percent earlier this week on the Hong Kong stock exchange after the China's currency regulator made the announcement.
The stocks had been witnessing a recent rally thanks to the revival of gaming revenue growth in Macau. Nasdaq-listed Melco Crown Entertainment Ltd fell by a sharp 17 percent, while Wynn Resorts declined by 12 percent and Las Vegas Sands dropped by 14 percent.
Under the new rules introduced by Chinese authorities, all those seeking to buy foreign currency will need to submit an application detailing the purpose of the purchase among other information. The State Administration of Foreign Exchange (SAFE) said that it wanted to plug all loopholes that enabled illegal capital transfers or money laundering.
In a statement Sonija Li, an analyst at brokerage firm Kim Eng Securities (Hong Kong) Ltd. said,
Measures to tighten controls in foreign exchange purchases are fueling concerns that China may roll out further restrictions on UnionPay overseas purchases. That is negative for casino operators
China's central bank is also planning on introducing tighter regulations for cross-border currency transactions by customers from July 1 onwards as a measure towards clamping down on terror financing and money laundering. Macau-oriented casino stocks have proven to be heavily influenced by Chinese policies on capital controls as a result of the casino industry's dependence on Mainland China visitors. Increasing restrictions on foreign currency transfers are a concern as it may impact gambling spends.
Share prices of casino stocks had plummeted last month after it was reported that Chinese authorities were slashing the UnionPay ATM daily withdrawal limit in Macau. UnionPay is China's dominant bank card company. Chinese visitors are now allowed to withdraw 5,000 MOP ($626) per day as opposed to 10,000 earlier. Mainland visitors can carry only $3,000 per visit, and the visits are limited to seven days, twice in every 30 days.
Macau's casino industry started seeing a turn-around in gross gaming revenue from August 2016 after more than two years of continuous decline. Analyst Jamie Soo from brokerage firm Daiwa Capital Markets Hong Kong Ltd. stated that the widespread analysts' expectations of high gambling revenue growth in 2017 was difficult to justify given the increasing tightening of regulations on foreign exchange transactions in China.