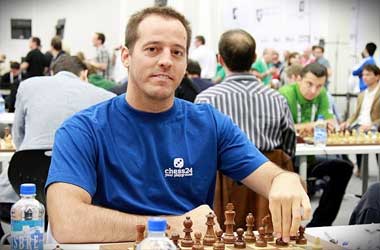 Francisco Vallejo Pons is not popular on the poker circuit because he hardly plays poker anymore. The Spaniard is extremely popular on the international chess circuit as he turned grandmaster at the age of 16 and is considered one of the best chess players in the world.
There are many chess players who occasionally end up playing poker to test their skills, have fun and see if they can win some money. Francisco was one of these players who played online poker from time to time and had reasonable success. He is reported to have over 1 million in online poker winnings. Back in 2011, he logged into an online poker site to relax and have a little fun. However he never had a good experience as he ended up losing a few thousand euros and decided to stop playing.
What he did not know at the time was that the Spanish tax authorities had in place some obscure tax laws. The tax laws back in 2011 stated that players must pay a 47 percent tax on online gambling winnings and their losses cannot be shown as deductions. The tax authorities looked at his 1 million euros in winnings and asked him to pay close to 500 thousand in euros in tax in 2016.
Francisco Objects To Massive Online Poker Tax Bill
Franciso was caught off-guard by the massive tax bill and tried to explain that while the records shows that he won 1 million euros, he did not cash out and used his winnings to continue to play online poker and ended up losing the money. His explanation was at the end of the day, he did not win anything because he used his winnings to keep playing and lost all of it.
In a statement, Francisco said
As of 2016, lawyers begin, meetings begin with the Spanish tax authority, I start cancelling tournaments, skin infections begin due to nerves, I have to cancel my participation with the national team because I honestly cannot stand the pressure, in more than one game I practically have tears in the eyes
Spain has since amended its tax laws concerning online gambling and there is more clarity on losses and profits. The sad thing for Francisco is that the authorities did not make the law retroactive which means Francisco still has to clear things up with his legal team.