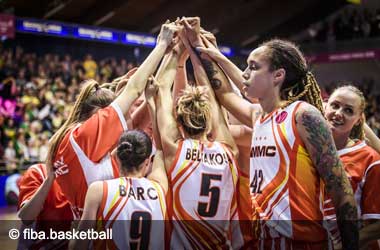 Summary
Brittney Griner's trial currently underway in Russia
Russian boss and teammates testify of her good character
LeBron James gets flak over Brittney Griner comments
WNBA star Brittney Griner is currently under enormous pressure as she is under trial in a Russian courtroom facing the possibility of a 10 year jail sentence. Griner was traveling to Russia during the WNBA off-season to play for UMMC Yekaterinburg.
Griner was arrested at the Sheremetyevo Airport on 17 Feb for possessing 4 canisters of vape oil which was found to contain cannabis oil.
She has since been locked in a Russian prison as U.S diplomats have tried to secure her freedom but Russia hasn't been willing to release her.
Russian Boss and Teammates Come Forward
Griner recently pleaded guilty to her charges but claimed that her actions were not done intentionally. When you plead guilty to charges in Russia it does not automatically mean that you are guilty but it does help to move things along faster. Analysts believe this is what Griner's defense team is trying to do.
UMMC Yekaterinburg boss Maxim Ryabkov came forward this week to testify on behalf of Griner and vouch for her good character. Ryabkov said that she was an outstanding basketball player who worked well with her team mates and always looked at promoting the right team spirit.
A number of her UMMC Yekaterinburg teammates also testified at the hearing and spoke highly of Griner. Maria Blagovolina, the legal representative of Griner said that the WNBA star was very emotional during the trial and was touched to see Ryabkov and her teammates from UMMC Yekaterinburg come forward and show her support.
There are many who believe that Griner is simply being used as a political pawn by Russia in its dealings with the United States of America.
LeBron James Gets Flak Over Brittney Griner Comments
Multiple players from the NBA have also come forward during the last few weeks to support Griner and call for the U.S government to do more to secure her release. LeBron James recently spoke about Griner in the recent episode of "The Shop" on youtube and said that if he was in Griner's shoes, he would think twice about coming back to America after the way they had treated her!
James got flak for his comments on social media for putting down America and not being sensitive over Griner's situation. King James went on social media to clarify that his comments were misinterpreted and that he wasn't knocking the USA!
My comments on "The Shop" regarding Brittney Griner wasn't knocking our beautiful country. I was simply saying how she's probably feeling emotionally along with so many other emotions, thoughts, etc inside that cage she's been in for over 100+ days! Long story short #BringHerHome

— LeBron James (@KingJames) July 13, 2022