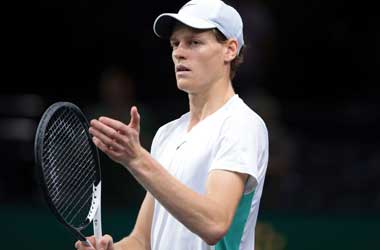 Summary:
Jannik Sinner protests crazy scheduling and withdraws from 2023 Paris Open
Sinner won his second round match but had less than 12 hours to prepare for R3
Multiple players have criticized the ATP for continuing with their poor scheduling
The 2023 Paris Masters sponsored by Rolex is currently taking place at the Accor Arena in Paris, France.
The tournament started on 30 Oct and will run till 05 Nov with a very tight schedule that was approved by the ATP.
Jannik Sinner Protests By Withdrawing From Paris Masters
The 2023 Paris Masters has got a lot of negative attention after Italian Jannik Sinner decided to drop out of the tournament in an attempt to protest an unfair schedule that put his health in jeopardy. The 22 year old won his second round match against Mackenzie McDonald 6-7 (6), 7-5, 6-1 and moved to the third round.
Sinner finished his match with McDonald at 2.37 AM on Thursday morning and had less than 12 hours to recover but he took the court to play R3 against Alex de Minaur. Sinner took to social media to inform his fans that he was withdrawing and to point out the reason why he made the decision.
Devo prendere la decisione giusta per la mia salute e il mio corpo.

Le settimane a venire con le ATP Finals in casa e la Coppa Davis saranno importantissime, ora mi concentro sulla preparazione di questi importanti eventi. Ci vediamo a Torino! Forza!

— Jannik Sinner (@janniksin) November 2, 2023
In a statement, Sinner said
I am sorry to announce that I am withdrawing from today's match. I finished the match when it was almost three in the morning and didn't go to bed until a few hours later. I had less than 12 hours rest to prepare for the next game. I have to make the right decision for my health and my body
Multiple Players Criticize ATP For Poor Scheduling
Sinner received support from multiple players including world number 8 Casper Ruud who lashed out at the ATP. In a post
Bravo @atptour 👏👏 way to help one of the best players in the world recover and be as ready as possible when he finished his previous match at 2:37 am this morning👍👍 14,5 hours to recover.. what a joke🤦 https://t.co/X5GsgY7scj

— Casper Ruud (@CasperRuud98) November 2, 2023
Late finishes continue to be a problem for both men and women tennis players even at Grand Slam tournaments like the Australian and US Open. However, the complaints are not having much of an impact as US Open organizers are not going to change their schedule as they say earlier starts will make it difficult for fans to show up.