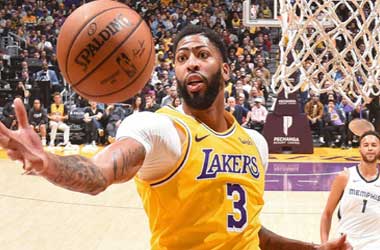 The Los Angeles Lakers offered a four-year max contract extension to star forward Anthony Davis earlier this week. The contract offer was for a total of $146 million but it wasn't enticing enough for Davis to accept. He has plans to become an unrestricted free agent come July.
This decision allegedly stems not from any ill will or desire to move on from the team, but mainly due to salary-cap factors, as well as Davis' desire to avoid distractions from his goal of attaining an NBA championship this season (one of our picks for the season).
For the 2020-2021 season, Davis is slated for a $28.7 million player option that he will forgo so that he can enter free agency.
Rich Paul, the prominent sports agent who represents Davis, allegedly broke the news to the Lakers' executives as the team wrapped up a shoot before playing the New York Knicks.
NBA on ESPN
Despite turning down the Lakers contract extension, league insider believe that Davis will not quit the Lakers after just one season because Davis has had to go through a number of challenges last year in order to join the team. When Davis is inevitably resigned by the Lakers, he will likely accept a five-year $202 million max contract.
This season, Davis has delivered for the Lakers and given them their money's worth. As a six-time All Star, Davis has played a major role in the Laker's 29-7 record this season, enabling them to sit on top of the Western Conference standings. He is also widely considered to be the favourite for the NBA Defensive Player of the Year Award. He is averaging a monstrous 27.7 points, and 9.5 rebounds per game, supplemented by 3.2 assists and 2.6 swats each game.
Davis Suffers Back Injury
The Lakers will be concerned about the availability of Davis after he suffered an injury in the third quarter against the New York Knicks on Wednesday. Davis sustained a bruise on his lower back after landing awkwardly in a block attempt. Davis was only able to get off the floor after being helped by his teammates and walked back gingerly to the dressing room unassisted. He was later carried out of the arena for testing.
According to Paul, Davis' x-rays showed no sign of real damage. The Lakers characterised Davis' injury as a bruised sacrum, located in the lower section of the spine close to the tailbone.
Sources indicate that Davis will not travel with the team to Dallas and Oklahoma City to undergo an MRI and recover from his pain.