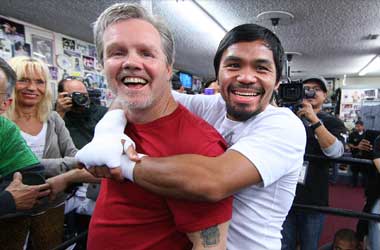 Manny Pacquiao is one of the biggest names in the boxing world and he is getting ready for his next fight against Adrien Broner.
The two are scheduled to fight on January 19 at the MGM Grand in Las Vegas and Showtime will have pay-per-view rights.
Trainer Freddy Roach is a legend in the world of boxing and was a part huge part of Manny Pacquiao's success.
The two had a great relationship for over a decade but something went south after Pacquiao's fight against Australian Jeff Horn in 2017 which resulted in a loss for Pacquiao.
The two fell out and Pacquiao fought Lucas Matthysse without having Roach in his corner. Freddy Roach made it clear earlier this month that he was more than willing to patch things up with Pacquiao given the fact that they had a father-son relationship for the last 15 years. However, Roach made it clear that for that to happen, Pacquiao would have to personally contact him.
That's exactly what Manny Pacquiao did and after a heart to heart chat the two have worked things out and Roach has confirmed that he will corner Pacquiao on Jan 19.
Fight Hub TV
Pacquiao vs. Broner
Pacquiao is an 8 division champion and a veteran in the sport with 69 fights, 60 wins and 7 losses. He is the WBA Welterweight Champion who has 39 KOs on his record and will go in as the favourite against Adrien Broner.
Pacquiao fought Matthysse in July and had a great performance which resulted in a TKO. He will turn 40 in December and knows that a TKO or KO against Broner will once again set the platform for him to call Floyd Mayweather out of retirement once again.
Adrien Broner will have to fight really well if he is going to pull of a surprise win against Pacquiao. Broner has a record of 37 fights, 33 wins and 3 losses. His last fight was back in April when he faced Jesse Vargas and won by majority decision. Broner will make return to Welterweight to face Pacquiao for the WBA Welterweight title.
Broner was once considered a very promising fighter but things did not go his way during the last few years. Since June 2015, he has fought six times and has a record of 3 wins, 2 losses and 1 draw. A win over Pacquiao will give his career the momentum it needs to call out big names and get bigger paydays.