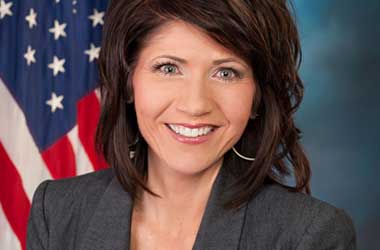 There are as many as 10 different states currently contemplating sports betting legalization in America. However, South Dakota isn't following their lead. Recently, both the state's Revenue Deputy Secretary David Wiest and Governor Kristi Noem have made remarks that shows they are not in favor of allowing sports betting.
In a statement, Gov. Noem said
I'm not in favour of expansion of gambling in the state of South Dakota. And I look through that lens at any legislation that puts something else on the table for discussion. Our early indications are pretty clear that opening up state sports gambling to the public could end up costing us more than the actual revenue it would bring in. And so that's a real concern for me. The juice isn't worth the squeeze.
Though Kristi Noem is the governor, she doesn't have a direct voice in the discussion. The legislation which is what will allow the state to have a new law for sports betting, is not the purview of the governor but the state Senate – and they are in full support of adding sports betting to the state's gambling choices.
South Dakota's two Senate leaders Republican Kris Langer and Democrat Troy Heinert are both enthusiastic in their support. In their opinion, sports betting is already taking place in the state illegally and legalizing the industry would allow South Dakota to better oversee it.. Additionally, they think of sports betting as just another option for casinos rather than a full expansion of gambling.
A new resolution has already been put forward in the Senate to approve sports betting at the state's tribal casinos, with Republican Senator Bob Ewing being the main sponsor. The resolution is already on the debate calendar for this week. The resolution has the support of most of the tribal governments of the state.
Interesting Positions
There are quite a few interesting positions on the sports betting debate. Matt Krogman, a representative of the South Dakota Licensed Dealer and Gaming Association, is against the resolution – but this is because it limits sports betting to tribal casinos – he thinks it should be statewide. Senator Jim Bolin agrees with him, thinking that the casinos are a limiting factor to the potential revenue that statewide sports betting can do.
There are others who dislike the expansion of gambling privileges. Lee Qualm, South Dakota's House Republican leader, is fully against the idea. He dislikes the idea of expanding gambling, even if it is only with the tribal casinos. With both positions going head-to-head, it will be interesting to see the results of the debate later this week.