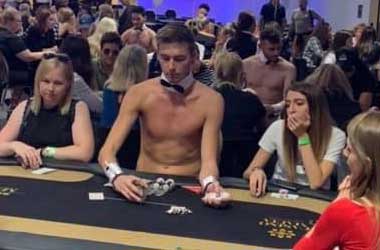 The Battle of Malta has caused somewhat of an uproar especially among female poker fans, after organisers added a twist to the €110 Ladies Event, supposedly to provide extra excitement to players. As it turned out, not everyone was happy.
The Ladies Event attracted attention after topless male dealers were seen pitching the cards for the female participants.
Poker player and betsson poker ambassador Daiva Byrne aired her thoughts on social media saying the gimmick is demeaning for both the players and the dealers. Byrne is an advocate for women in poker and the founder of Fantastic Ladies of Poker (FLIP), the world's largest female-only poker community.
Fellow poker pro Dara O'Kearney shared a similar opinion, saying that one male dealer even refused to go top-naked and was taken off the event as a result. Later in the day, the dealers all returned with their shirts on, but all the same, the charade had already created a negative image for the festival.
Very well said. One of dealers in High Roller told us he refused point blank and was taken off the Ladies event. This was one of the best top professional English dealers

— Dara O'Kearney (@daraokearney) 20 October 2019
Male dealers assigned in the Ladies Event were reportedly offered an extra €50 to do their task with no shirt on. While some grabbed the opportunity for some additional cash, others felt they were put in an embarrassing situation by tournament organisers.
One male dealer expressed his disappointment, saying the move was degrading and bordering prostitution, given that male dealers were offered extra cash to pitch the cards shirtless, most especially in this day and age when almost everything is easily posted on social media through smartphones.
Male Dealers Call for Respect
The dealer called on tournament organisers to respect them as they are not dancers or strippers. He said they also have rights that need to be protected because they are necessary to the industry.
It has also emerged that during Day 1 starting flights of the BOM Main Event, dealers were also asked to stand up and dance, before shuffling the cards. Again, dealers were promised extra cash if they heeded the request. Those who declined were made to feel bad in public, the dealer confided.
Several people working in the industry have now shared their thoughts on the matter and most were not impressed. Ivonne Montealegre who is the International Affairs Director for the Women's Poker Association said it was a poor marketing gimmick by the organisers and called it a bad decision. She said sexualised dress codes for both genders during poker events should be dealt with as the industry continues to work hard towards creating an equal ratio in the industry.